Vanishing Borderlands: The Fragile Landscape of the U.S.-Mexico Border (Hardcover)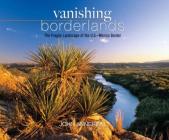 Email or call for price.
Not in Stock - Subject to Availability
Description
---
These 1,956 miles through Texas, New Mexico, Arizona, and California on the U.S. side and Nuevo Leon, Coahuila, Chihuahua, Sonora, and Baja California Norte on Mexico's side are the beautiful, rugged, blood-stained borderlands that once lured conquistadors, missionaries, scalp hunters, bandits, smugglers, pioneers, and colonists from Spain, Mexico, and the United States. Annerino canoed the Rio Grande/Rio Bravo del Norte through the legendary Big Bend Frontier, walked treacherous immigrant trails like Arizona's Camino del Diablo (Road of the Devil), explored borderlands jaguar country on foot, and came to know the resilient people who live, work, and cling to the traditions on both sides of the border. Along the way he chronicled his perilous journeys through this "geography of chaos," capturing in remarkable photographs and evocative essays the stunning landscapes whose fragile environment is threatened by today's politics.