Immigrant Architect: Rafael Guastavino and the American Dream (Hardcover)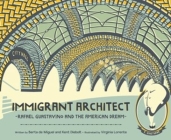 $19.95
Available for Special Order - Usually ships in 1-5 Days
Description
---
Booklist Starred Review
The Spanish architects Rafael Guastavino Sr. and his son, Rafael Guastavino Jr., designed more than one thousand iconic spaces across New York City and the United States, such as the New York City Hall Subway Station (still a tourist destination though no longer active), the Manhattan Federal Reserve Bank, the Nebraska State Capitol, the Great Hall of Ellis Island, the Oyster bar at Grand Central Terminal in New York, the Elephant House at the Bronx Zoo, the soaring tiled vaults under the Queensboro Bridge, the central dome of the Cathedral Church of St. John the Divine, and the Boston Public Library. Written in the voice of the son, who was eight years old in 1881 when he immigrated to America with his father, this is their story.
Rafael Guastavino Sr. was 39 when he left a successful career as an architect in Barcelona. American cities—densely packed and built largely of wood—were experiencing horrific fires, and Guastavino had the solution: The soaring interior spaces created by his tiled vaults and domes made buildings sturdier, fireproof, and beautiful. What he didn't have was fluent English. Unable to win design commissions, he transferred control of the company to his American-educated son, whose subsequent half-century of inspired design work resulted in major contributions to the built environment of America.  
Immigrant Architect is an introduction to architectural concepts and a timely reminder of immigrant contributions to America. The book includes four route maps for visiting Guastavino-designed spaces in New York City: uptown, midtown, downtown, and Prospect Park.
About the Author
---
Berta de Miguel is a trained architect specializing in the restoration of historic structures who works as Vertical Access New York City Branch Manager. This position has allowed her to work regularly in Guastavino-designed spaces. Part of this interaction with Guastavino is included in the documentary El Arquitecto de Nueva York, by Eva Vizcarra, which was selected for the Gold Dolphin at the Cannes Festival and for Best Biography recognition in the New York Festival World's Best TV & Films Festival.

Kent Diebolt is the Founding Partner of Vertical Access LLC, an industrial rope access company dedicated to the inspection, investigation, and documentation of monumental historic buildings. Former president of the Association for Preservation Technology, he is an expert in Guastavino projects throughout the United States.

Virginia Lorente is an architect based in Valencia, Spain, who has written, illustrated, and published the children's book on architecture My Favorite Houses, which won the Serra d'Or prize in Spain in 2013.
Praise For…
---
Starred Review  "An exceptional STEAM title."
— Angela Leeper

Read this as a picture book, to spark discussion, or use it to expand options for biography assignments in elementary schools. There's great potential in this story. VERDICT Beautiful, informative, and fascinating, this is a great addition to school and public library biography collections. Recommended.

— Immigrant Architect

If you build it, they will marvel... This charming homage is a resounding tribute to immigrants' contributions. The text is narrated by Rafael in a proud, awestruck voice that makes both characters and their work come alive. A pictorial guide to the important architectural terms readers will encounter prefaces the book. Many of the lively, colorful, appealing illustrations prominently display tiled arches... A firm foundation for building interest in architecture and a solid STEM resource.
— Immigrant Architect

An esoteric architectural detail—the Guastavino
vault—anchors this chatty, information-dense biography. In first-person
narration, the authors share the story of Rafael Guastavino Moreno through his
son, Rafael Guastavino Expósito. After the pair emigrated to the U.S. from
Spain in 1881, the elder Guastavino "patented tiled vaults and domes as a
fireproof construction system" (at the time, "fires were common in America's
growing cities"). Engaging the same concepts used in pizza and bread ovens, the
Guastavino vault proved enormously successful, and "the Guastavino Fireproof
Construction Company... built curved ceilings in more than one thousand
buildings." (Though many were demolished, vaults survive in Grand Central
Terminal and the main hall at Ellis Island, among other locations.) Through a
fluke of fate, an architecture professor rescued the company's drawings from a
dumpster, thereby ensuring the Guastavino legacy. Lorente's retro-mod
illustrations, washed in teal, yellow, and rust, portray undulating tiled
vaults, grand spaces, and dapper architects at work. Ages 8–up.
— Immigrant Architect