These Colors Don't Run: A Celebration of Those Who Have Served (Hardcover)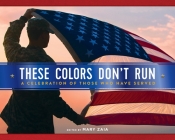 $24.99
This title is not currently in stock and may be unavailable for us to order. To find out, click on the Ask A Bookseller button.
Description
---
Honoring the courage and commitment of the forces who guard our freedom, These Colors Don't Run is a patriotic look at our men and women in uniform, from World War II to the present.

America relies on the men and women of our Armed Forces to protect our country's freedom and honor and to stand for democracy around the world. Edited by Mary Zaia, These Colors Don't Run is a stirring collection of photographs and quotations that showcase the strength, sacrifice, and dedication that service to our country demands.

In an ever-changing world, our troops are a steadfast, inspiring example of people facing challenges with integrity and maintaining loyalty and bravery in the toughest times. These Colors Don't Run celebrates enduring American values and the selflessness of every servicemember who upholds and protects American freedom.

Have gratitude for the heroes who give everything for a greater good
About the Author
---
Mary Zaia is a writer, loving mother to four rambunctious boys, and cooking enthusiast. She currently resides in Bergenfield, New Jersey.