Kind of a Big Deal (CD-Audio)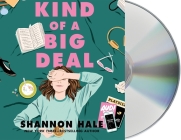 $44.99
This title is not currently in stock and may be unavailable for us to order. To find out, click on the Ask A Bookseller button.
Description
---
From Shannon Hale, bestselling author of Austenland, comes Kind of a Big Deal: a hilarious, madcap story that will suck you in—literally.

There's nothing worse than peaking in high school. Nobody knows that better than Josie Pie.

She was kind of a big deal—she dropped out of high school to be a star! But the bigger you are, the harder you fall. And Josie fell. Hard. Ouch. Broadway dream: dead.

Meanwhile, her life keeps imploding. Best friend: distant. Boyfriend: busy. Mom: not playing with a full deck? Desperate to escape, Josie gets into reading.

Literally. She reads a book and suddenly she's inside it. And with each book, she's a different character: a post-apocalyptic heroine, the lead in a YA rom-com, a 17th century wench in a corset.

It's alarming. But also . . . kind of amazing?

It's the perfect way to live out her fantasies. Book after book, Josie the failed star finds a new way to shine. But the longer she stays in a story, the harder it becomes to escape.

Will Josie find a story so good that she just stays forever?

A Macmillan Audio production from Roaring Brook Press
About the Author
---
Shannon Hale is the Newbery Honor–winning and New York Times bestselling author of the Princess Academy series, The Books of Bayern, Book of a Thousand Days, Dangerous, and the graphic novels Rapunzel's Revengeand Calamity Jack, as well as the Ever After High and Princess in Black series, and the upcoming The Unbeatable Squirrel Girl for Marvel. She also wrote three novels for adults, including Austenland, now a major motion picture starring Keri Russell. She and her husband, the author Dean Hale, have four children and live near Salt Lake City, Utah.