AP Chemistry Flash Cards (Barron's Test Prep) (Cards)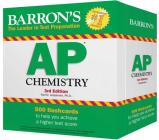 $29.99
This title is not currently in stock and may be unavailable for us to order. To find out, click on the Ask A Bookseller button.
Description
---
Be prepared for exam day with Barron's. Trusted content from AP experts!

Barron's AP Chemistry Flashcards includes 500 up-to-date content review cards and practice questions. 
Written by Experienced Educators 
Learn from Barron's--all content is written and reviewed by AP experts
Build your understanding with review and practice tailored to the most recent exam 
Be Confident on Exam Day
Strengthen your knowledge with in-depth review covering all units on the AP Chemistry exam
Sharpen your test-taking skills with content review questions 
Customize your review using the enclosed sorting ring to arrange cards in an order that best suits your study needs
Check out Barron's AP Chemistry Premium for even more review, full-length practice tests, and access to Barron's Online Learning Hub for a timed test option and automated scoring.
About the Author
---
​About the Author
Neil D. Jespersen is an active member of the Department of Chemistry at St. John's University (Queens, New York). He earned his B.S. degree with special attainments in chemistry at Washington and Lee University (Lexington, Virginia) and his Ph.D. at Pennsylvania State University (University Park, Pennsylvania). He specializes in analytical chemistry research and has mentored more than 100 undergraduate research students and 25 graduate students. Dr. Jespersen teaches graduate and undergraduate courses in instrumental analysis and quantitative chemical analysis. He also teaches general chemistry on a regular basis and coordinates the general chemistry laboratory program. Dr. Jespersen is a fellow of the American Chemical Society and currently serves as a councilor from the New York section. He is also the faculty advisor to the ACS Student Chapter at St. John's University.

About the Publisher
In the 1930s, Manuel H. Barron opened a bookstore in Brooklyn, New York. 

People from the community asked Mr. Barron about books that might be available to help their children study for the New York State Regents exams. After realizing there wasn't anything available, Mr. Barron's created his own study guides.

80 years later, Barron's has helped millions of people prepare for their next step.