Où Vais-Je Vivre? (Paperback)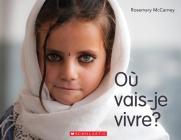 Description
---
See below for English description.
Contraints de fuir leur pays cause de la guerre ou de catastrophes naturelles, des milliers d'enfants laissent derri re eux leur maison, leur chambre, leurs jouets. Ils partent vers une terre d'accueil, totalement d munis. Sur leur visage se lisent le questionnement et l'incertitude.
Cet ouvrage, toff de nombreuses photographies provenant de l'Agence des Nations Unies pour les r fugi's, permettra aux parents et aux enseignants d'ouvrir une discussion sur des questions d'actualit de mani re adapt e aux enfants. Le livre est aussi un excellent outil pour susciter une r flexion sur notre qualit de vie par rapport celle d'autres populations. Le message positif de la fin laisse entrevoir une issue heureuse, fruit de la r silience de ces enfants.
This stunning photo-based picture book for younger readers takes a look at the thousands of children around the world who have been forced to flee war, terror, hunger, sickness, and natural disasters--young refugees on the move with very little left except questions. It's hard to imagine, but the images here will help unaffected children understand not only what this must feel like, but also how very lucky they are. The final message is that children, even with uncertain futures, are resilient and can face uncertainty with optimism. Gripping images are from the The United Nations High Commissioner for Refugees.
Original title: Where Will I Live?
About the Author
---
Rosemary McCarney est la pr?sidente et la directrice g?n?rale de Plan Canada, l'une des organisations internationales de d?veloppement les plus importantes au Canada. Apr's avoir travaill? pour la Banque mondiale, l'Agence canadienne de d?veloppement international, l'ONU et Street Kids International, Rosemary a entam? son r?le ? Plan Canada o? elle a men? les campagnes pour la Journ?e internationale de la fille et Parce que je suis une fille. Elle habite ? Toronto avec sa famille. Rosemary McCarney is president and CEO of Toronto-based Plan Canada, one of the largest international development agencies in Canada. After working with organizations like the World Bank, Canadian International Development Agency, the UN, and Street Kids International, she moved to Plan Canada, where she led the initiative for the International Day of the Girl and spearheads the Because I am a Girl campaign. Rosemary lives in Toronto with her family.