Mastering Self-Discipline with NLP (Compact Disc)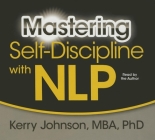 $40.00
This title is not currently in stock and may be unavailable for us to order. To find out, click on the Ask A Bookseller button.
Description
---
If you had more self-discipline, could you increase your income? In this program, you'll discover breakthrough techniques which will help you achieve your dreams. By artfully blending prove-effective techniques adopted from behavior therapy, cognitive psychology, and the science of Neuro-Linguistic Programming (NPL), Kerry Johnson has devised a program that will empower you to exercise perfect, consistent self-discipline - automatically.
This program will show you how to:
Identify and eliminate the unconscious factors that might be preventing you from reaching a particular goal
Reprogram your beliefs so that they are in alignment with your goals
Root out self-limiting fears
Change your emotional and physical states so that they coincide with what you want to accomplish
And more
This program gives you a simple step-by-step plan for putting these powerful strategies to work in your life quickly, so you'll start to experience fantastic results right away. Already a mega-best seller, this program is the finest ever produced on giving you more self-discipline.
About the Author
---
Kerry L. Johnson, MBA, Ph.D. is an internationally known author and speaker who presents at least 12 programs a month to audiences from Hong Kong to New York. Traveling 8,000 miles each week, he speaks on such topics as "How To Read Your Customer's Mind," "Management Magic: The new technology of leadership," and "Mastering the Art of Business Relationships."He has been featured on CNN and CNBC. Dr. Johnson has also lectured at Harvard, Oxford, Purdue and the University of San Diego.In addition to speaking, Kerry currently writes monthly for fifteen national trade and management magazines shoe editors have dubbed him "The Nation's Business Psychologist." He is the author of six books. His quarterly newsletter THE WINNING EDGE, is read by nearly 100,000 professionals around the globe.