ACT Flashcards, Fourth Edition: Up-to-Date Review: + Sorting Ring for Custom Study (Barron's Test Prep) (Cards)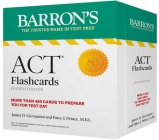 $29.99

Coming Soon - Available for Pre-Order Now
Description
---
Barron's
ACT Flashcards
features more than 400 cards with practice and strategies for all five sections of the test.
Cards feature test-taking tips and realistic practice and are divided into categories that match the ACT test sections:
The English cards focus cover punctuation, grammar, and style
The Math cards include all math topics found on the ACT
The Reading cards contain strategies for time management and determining correct answers
The Science cards cover data representation, research summaries, and conflicting viewpoints
The Writing cards offer tips for creating a strong essay
All cards have corner punch holes that accommodate an enclosed metal key-ring-style card holder, which students can use to arrange cards in sequences that best fit their study needs. 
About the Author
---
About the Authors
Patsy Prince is the founder and owner of Academic Tutoring Centers in Highland Park. Having over twenty-five years of experience as a teacher and tutor, and having a Masters in Education, Patsy has developed strategies which enable all learners to maximize their scores on standardized tests. Her expertise has been validated by her students' sound success. She has included these approaches in partnership with Barron's, publishing 6 ACT Practice Tests and ACT Flash Cards.
Jim Giovannini has been an educator his entire life. Today he is recognized as one of the nation's leading experts in ACT and SAT test preparation. His company, Academic Tutoring of Park Ridge, IL, serves families and school districts across the country. He has served as the President and Executive Director of the Education Industry Association. Through his test prep programs, Mr. Giovannini helps build skills and scores for all students—leading to increased college admission choices and better scholarship opportunities for all.

About the Publisher
In the 1930s, Manuel H. Barron opened a bookstore in Brooklyn, New York. 

People from the community asked Mr. Barron about books that might be available to help their children study for the New York State Regents exams. After realizing there wasn't anything available, Mr. Barron's created his own study guides.

80 years later, Barron's has helped millions of people prepare for their next step.