Please allow 2-4 days for order processing for ALL orders, in addition to shipping times.

We are currently working with very limited staffing and your patience is greatly appreciated. Thank you!
Listful Thinking: Using Lists to Be More Productive, Successful and Less Stressed (Compact Disc)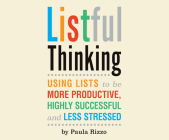 $49.99
Not in Stock - Available for special order
Description
---
What do Madonna, Martha Stewart, John Lennon, Ellen DeGeneres, Ben Franklin, Ronald Reagan, Leonardo da Vinci, Thomas Edison, and Johnny Cash have in common? Each is (or was) a list maker. These successful people all use lists to keep track of their ideas, thoughts, and tasks. Finding enough hours in the day to get everything accomplished and allow for some downtime can be a struggle. It's no wonder so many of us are stressed, overextended, and exhausted. For the 54 percent of us who feel like we re chasing our own tails, Listful Thinking is here to prove that it doesn't have to be that way. You can still find time to relax, read a good book, and do the things you love.