Speed of Life (MP3 CD)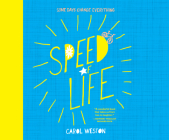 $29.99
This title is not currently in stock and may be unavailable for us to order. To find out, click on the Ask A Bookseller button.
Description
---
When Sofia lost her mother eight months ago, her friends were 100% there for her. But now it's a new year, and they're ready for Sofia to move on. The problem is that Sofia can't bounce back-she can't recharge like a cellphone. She decides to write Dear Kate, an advice columnist for Fifteen Magazine, and is surprised to receive a fast reply. Soon, the two are exchanging emails, and Sofia opens up and spills all, including a few worries that are totally embarrassing. But it turns out that not even advice columnists have all the answers. One day, Sofia learns a secret that flips her world upside down: Dear Kate shows up on her doorstep...with her dad...as his girlfriend... A novel about love, family, grief, and growing up, Speed of Life is the heartbreaking, heartwarming story of a girl who thinks her life is over when it's really just beginning.