Lady B Spots Trouble (Hardcover)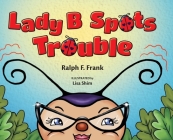 $26.49
Available for Special Order - Usually ships in 3-5 Days
Description
---
Lady B Spots Trouble
Volume 1 of the Allowed to Say NO Series

A safe way of having a big conversation with young children about unwanted touch. A companion Colouring Book and Kindergarten Teacher's Guide (downloaded for free from author's website) facilitates teaching personal safety skills in an easy and age-appropriate manner.

Jesse, an adventurous boy of 5, meets Lady B, a feisty karate-chopping but safety-conscious ladybug, on his Wishing Spot - the first branch of his backyard oak tree. Jesse heroically searches for hidden treasure, but sometimes it's dangerous, and his instincts tell him something is unsafe; the same feeling he gets when his neighbour hugs him too tight. Jesse and Lady B navigate these adventures, not just with lifejackets and seatbelts, but with the secret power of instinct.

Safety is a Tricky Business
Who to talk to in these worrying moments? Jesse sits on Granny's red kitchen stool and listens when she says, "Feelings are like the wind. They blow and howl and shake everything and later it's all quiet like they were never there. But sometimes they just don't go away."

Granny tells Jesse, "If you get a No Feeling, you're allowed to say 'NO ' and ask adults you trust for Help "...