Somewhere (Hardcover)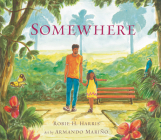 $17.99

On hand at one or more locations, see product page for details
Description
---
A seemingly ordinary park transforms into somewhere new and wonderful in this enthralling ode to first adventures from acclaimed author Robie H. Harris and fine artist Armando Mariño.

Somewhere is where I wanted to go. Somewhere new. Somewhere I had never, ever been before.

A young girl and her father walk through familiar streets on a brilliant, sun-drenched day. When they reach a park, the girl lets go of her father's hand. It is time for her to journey out on her own. As her father keeps watch, she finds an unfamiliar place—an extraordinary forest that blooms around her, lush and larger than life. She plays among gigantic leaves, discovers treasures, and thinks of how her father would love this place, too. She retraces her steps to a happy reunion with her father and a recounting of her exploration. Brought to life in soft, vibrant watercolors by renowned Cuban artist Armando Mariño, this lyrical story by Robie H. Harris captures the magic of a child finding her inner strength and curiosity—and discovering somewhere new all on her own.
About the Author
---
Robie H. Harris is the New York Times best-selling author of It's Perfectly Normal: Changing Bodies, Growing Up, Sex, and Sexual Health; It's So Amazing! A Book About Eggs, Sperm, Birth, Babies, and Families; and It's NOT the Stork! A Book About Girls, Boys, Babies, Bodies, Families, and Friends. She is also the author of the Let's Talk About You and Me series. Robie H. Harris lives in New York City.

Armando Mariño is an award-winning Cuban artist. He uses a rich palette to create ethereal landscapes that reflect the inner life of his subjects. Armando Mariño lives in New York City. Somewhere is his first book.
Praise For…
---
Mariño's stunning watercolor and ink illustrations invite readers to join the young protagonist on her new adventure, an excellent complement to Harris's lyrical text. . . . Brimming with respect for curiosity and independence, this is a welcome addition to most collections.
—School Library Journal

The story sensitively portrays a parent who understands the fine balance between a child's need for independence and the need for supportive reassurance. . . . A lovely portrayal of the father-child bond.

—Kirkus Reviews

A tropical landscape alive with colorful birds, butterflies, and flowers makes an ideal place for a brown-skinned child wearing a dress and a baseball cap to explore alone. . . Mariño's paintings give [the story] visual richness.
—Publishers Weekly

The evident love between the parent and child and the encouragement the father provides may inspire children in seeking new experiences and developing self-reliance.
—Booklist