Groundhog's Dilemma (Hardcover)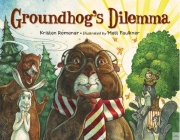 $17.99
Email or call for price.
Description
---
After Groundhog announces six more weeks of winter, half his animal friends are disappointed, while the other half are excited. Each animal asks Groundhog to make his prediction in their favor the following year. Rather than being truthful about the fact that he just "calls it like he sees it," he leads them to believe he can control the weather, accepting their gifts of food and favor. On the next Groundhog Day, he finally admits he made promises he couldn't keep because he was trying to please everyone and makes amends.

Matt Faulkner's rich illustrations are packed with hilarious details that will delight readers of all ages. No matter what weather the Groundhog predicts, curling up with this fun book is a great way to spend the winter.
About the Author
---
Kristen Remenar is a children's librarian, writer, teacher, and national speaker on literacy. She is married to author/illustrator Matt Faulkner. This is her first picture book.

Award-winning children's book author and illustrator Matt Faulkner has illustrated twenty-nine books and written and illustrated seven more since he began his career back in 1985. Matt is married to author and librarian Kristen Remenar.
Praise For…
---
Announcing six more weeks of winter earns Groundhog both friends and grumblers.
When Groundhog sees his shadow, half the animals cheer, and the other half groan. But things really go downhill when spring finally arrives. Bear and Squirrel see nap-happy Hare give Groundhog a basket of berries as a gift for the extra weeks of slumber, so Squirrel invites him to a ballgame, hoping to cozen Groundhog into declaring an early spring next year. Though he initially protests, "I don't actually control the weather. I just report it," he finds that he's enjoying the attention. Pretty soon, Groundhog gives in, and his social calendar fills up with picnics, bonfires, and more ballgames. Stricken by conscience as winter nears, he goes to the barn for advice from Owl, who simply says—wisely—that Groundhog got himself into this problem and must solve it himself. When Groundhog Day rolls around again, he risks disfavor by telling the truth and invites his friends to his home for a warm-up and some snacks. And so they pass much of those six extra weeks of winter, comfortably. Faulkner's anthropomorphic animals and vibrant colors recall Uncle Wiggly, and the illustrations are packed with humorous details that repay rereadings. Remenar's graceful prose and the subtlety of her message, pitched to older preschoolers and early-elementary students, are a good match.
A sly and funny take on truth-telling and friendship.
-Kirkus Reviews