The Banh Mi Handbook: Recipes for Crazy-Delicious Vietnamese Sandwiches [A Cookbook] (Hardcover)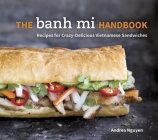 Description
---
A cookbook devoted to the beloved Vietnamese sandwich, featuring 50 recipes ranging from classic fillings to innovative modern combinations.

Created by Vietnamese street vendors over a century ago, banh mi is a twist on the French snack of pâté and bread that is as brilliant as it is addictive to eat. Who can resist the combination of crisp baguette, succulent filling, and toppings like tangy, pickled daikon and carrots, thin chile slices, refreshing cucumber strips, and pungent cilantro sprigs? Bringing a new realm of flavor for anyone tired of standard sandwich fare, The Banh Mi Handbook presents more than fifty recipes and numerous insights for crafting a wide range of sandwiches, from iconic classics to modern innovations, including: Crispy Drunken Chicken, Shrimp in Caramel Sauce, Grilled Lemongrass Pork, Beef and Curry Sliders, Coconut Curry Tofu and Lettuce Wrap Banh Mi. 

Andrea Nguyen's simple, delicious recipes for flavor-packed fillings, punchy homemade condiments, and crunchy, colorful pickled vegetables bring the very best of Vietnamese street food to your kitchen.
About the Author
---
ANDREA NGUYEN is an author, teacher, and consultant based in the San Francisco Bay Area. Born in Vietman, she came to the United States at the age of six. She has written a number of acclaimed cookbooks, including Into the Vietnamese Kitchen, Asian Dumplings, and The Banh Mi Handbook. Her food writing has appeared in the Wall Street Journal, Cooking Light, Lucky Peach, Saveur, and Rodale's Organic Life, where she is a contributing editor. Vist her at VietWorldKitchen.com.
Praise For…
---
One of NPR's Best Cookbooks of 2014

" Who better than Andrea Nguyen to unravel the mysteries of one of the great sandwiches of the world? Her book is deceptively simple on the outside but bursting with layers of flavor and complexity within—just like the best banh mi. As always, Andrea puts mastery within the reach of any curious cook smart enough to take her advice."
—Joe Yonan, author of Eat Your Vegetables

" Brimming with information, inspiration, and smart advice, this is much more than a sandwich book. Andrea Nguyen once again demonstrates her commendable talent for writing recipes that deliver great tasting food and teach you to become a better cook." 
—Molly Stevens, author of All About Roasting   

" Andrea perfectly tells the story of how Vietnamese food culture was influenced by French colonials. Her simple recipes elevate very humble ingredients to heights you would not expect. I can't wait to incorporate some of these ideas into our sandwich menu."
—Sam Mogannam, owner of Bi-Rite Market

"Through these recipes, Andrea tells her life story. From childhood lunches of silky sausage on toasted baguettes to postmodern banh mi smeared with curried edamame pâté, she sketches the transformation of a sandwich, born of French and Chinese colonization and Vietnamese ingenuity, into a global culinary phenomenon."
—John T. Edge, author of The Truck Food Cookbook

"Lots of tasty riffs on the meaty, pickly, crunchy, saucy, spicy Vietnamese sandwich."
—Cooking Light, July 2014

"The banh mi sandwich is itself the product of many miles traveled: the crusty bread brought to Vietnam by French colonists, filled with all the bright, hot, fresh, meaty, intensely tasty elements of the local cuisine. This delicious cultural collision is the subject of "The Banh Mi Handbook: Recipes for Crazy-Delicious Vietnamese Sandwiches" by Andrea Nguyen.  . . .  it's a master course in banh mi construction, from the bread to the pickles and condiments to every imaginable filling, whether it's pork meatballs or fried oysters or a lipsmacking citrus-marinated grilled chicken you're hankering for."
—Wall Street Journal, June 2014