How the Dinosaur Got to the Museum (How the . . . Got to the Museum) (Hardcover)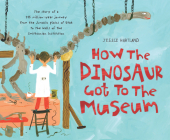 Staff Reviews
---
This picture book talks about all the people who get the dinosaur into the museum and what kind of special job they have to help it get it looking the way you see it in an exhibition. It's great for giving context to a trip to the Natural History Museum, and for showing the reader a variety of meaningful jobs of adults. Paleontologists are excellent heroes for a kid to have.
-- Anna
— From
Anna S. Staff Picks
Description
---
Acclaimed author/illustrator Jessie Hartland presents the fascinating 145-million-year journey of a dinsoaur: a Diplodocus longus, from its discovery in 1923 in Utah to its arrival in the hallowed halls of the Smithsonian National Museum of Natural History in Washington, D.C.
About the Author
---
Jessie Hartland is an illustrator, cartoonist, artist, packaging designer, and window display designer with a worldwide clientele. She is the author and illustrator of Clementine in the City and the illustrator of Messing Around on the Monkey Bars, The Perfect Puppy for Me and Drawing with Scissors. She lives with her family in New York City and Bellport, Long Island. The author lives in New York, NY.
Praise For…
---
"Brilliantly simple and effective, this is an excellent addition to any elementary collection.- SLJ, starred review
"The overall elicited emotion is awe--both for the passage of time and for the steps required to bring a simple hunk of stone to the fifteenth person: you." -- BOOKLIST, starred review

"Clearly this is a fun concept with a lot of different applications one can work with and the first in the series is a true keeper...Consider this a greatway to bridge the past and the present for your kids." -- Elizabeth Bird, A Fuse #8 Production

Top Ten Sci-Tech Books for Youth for 2010 Booklist
"With exhaustive, dizzying detail, this picture book travels through time and across the world to look at how a seven-ton sphinx made its way from ancient Egypt to a museum." -- Booklist