Execution in E (Compact Disc)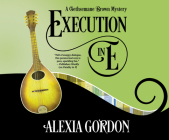 $59.99
Email or call for price.
Description
---
When an influencer-turned-bridezilla shows up at the lighthouse to capture Insta-perfect wedding photos designed to entice sponsors to fund her lavish wedding, Gethsemane has her hands full trying to keep Eamon from blasting the entire wedding party over the edge of the cliff.But those wedding bells become funeral bells when members of the bride's entourage start turning up dead. Frankie's girlfriend, Verna, is pegged as maid-of-honor on the suspect list when the Garda discover the not-so-dearly-departed groom was her ex and Gethsemane catches her standing over a body.As Gethsemane uncovers devilish dealings, she fights to clear Verna, for Frankie's sake. Will she find the killer in time to save Frankie from another heartbreak? Or will the photos in her social media feed be post-mortem?