She's Too Pretty to Burn (Compact Disc)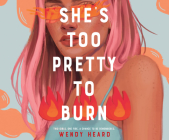 $39.99
This title is not currently in stock and may be unavailable for us to order. To find out, click on the Ask A Bookseller button.
Description
---
The summer is winding down in San Diego. Veronica is bored, caustically charismatic, and uninspired in her photography. Nico is insatiable, subversive, and obsessed with chaotic performance art. They're artists first, best friends second. But that was before Mick. Delicate, lonely, magnetic Mick: the perfect subject, and Veronica's dream girl. The days are long and hot--full of adventure--and soon they are falling in love. Falling so hard, they never imagine what comes next. One fire. Two murders. Three drowning bodies. One suspect...one stalker. This is a summer they won't survive.Inspired by The Picture of Dorian Gray, this sexy psychological thriller explores the intersections of love, art, danger, and power.