Moomin and the Sea (Paperback)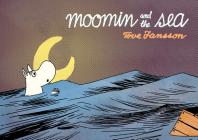 Description
---
The Moomin family moves to a remote island for the sake of art

Another classic Moomin story reworked in full color, with a kid-proof but kid-friendly size, price, and format.

Moominpappa has committed to writing a Great Novel About the Sea, and so the whole family moves to a desolate island where Moominpappa becomes the lighthouse keeper. It soon becomes apparent that there are a few problems with the island: It's haunted, there's nowhere to enjoy a good cup of tea, and the rat family living in the transistor radio has strictly forbidden the Moomins from using the radio until the children have all grown up and moved out. Determined, the Moomins set about planting a rose garden, painting the beacon cheery colors, and finding other ways to make the lonely place their own. In the end, though, is a bleak lighthouse any place for a Moomin?
Tove Jansson's flawless cartooning is brought to life in a whole new way within these pages. A delight for the whole family!
About the Author
---
Tove Jansson (1914–2001) was born in Helsinki and spent much of her life in Finland. She is the author of the Moomin books, including Comet in Moominland and Finn Family Moomintroll. Born into an artistic family—her father was a sculptor and her mother was a graphic designer and illustrator—Jansson studied at the University College of Arts, Crafts and Design in Stockholm, the Finnish Academy of Fine Arts, and L'École des Beaux-Arts in Paris. In addition to her Moomin books, she also wrote several novels, drew comic strips and worked as a painter and illustrator. In 1966, she was awarded the Hans Christian Andersen Medal for her body of work. Jansson had a studio in Helsinki but spent most of her time at her home on a small island called Klovharu.
Praise For…
---
"Here is where Jansson's weird but true world begins; where fear, loneliness and insecurity are banished by love and the force of imagination." —Time
"[Jansson's] work soars with lightness and speed, and her drawings only echo her writing: delicate but precise, observant yet suggestive . . . Jansson was exceptional, an exuberant explorer of emotional independence and interdependence, a liberating force." —Los Angeles Times Book Review
"A lost treasure now rediscovered--one of the sweetest, strangest comics strips ever drawn or written. A surrealist masterpiece. Honest." —Neil Gaiman, author of Sandman, American Gods and Fragile Things
"Moomin is gorgeous, and is flat out the best Moomin book I've ever seen. Tove Jansson was a natural cartoonist. These strips are clever, gentle, witty, and completely engrossing." —Jeff Smith, cartoonist of Bone