Monster Hunter Illustrations 3 (Hardcover)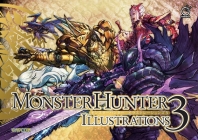 $54.99
This title is not currently in stock and may be unavailable for us to order. To find out, click on the Ask A Bookseller button.
Description
---
Beloved by fans the world over, the Monster Hunter series takes players on an epic quest to hunt the most dangerous and fantastic creatures imaginable. Monster Hunter Illustrations is back with this new, leviathan-sized, artwork collection Monster Hunter Illustrations 3 covers all the fourth generation Monster Hunter game Monster Hunter 4 Ultimate. Featured are creature designs, character designs, armor, weapons, tons of rough sketches, and more.