Secret, Secret (Hardcover)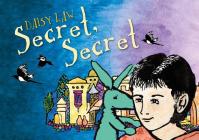 Not in Stock - Out of Print
Description
---
Secret, secret. Keep or tell?
Stay hush-hush or shout and yell?
There are lots of different types of secrets. There are big secrets, small secrets, ones you'd never tell, ones you want to tell, ones you keep locked up, or hidden under your bed. There are ones that make you smile, and others that make you scared.
This charming picture book subtly explores the different types of secrets children may have, and encourages them to feel confident to share their secrets. It will be perfect for any child aged 3-7 who has trouble opening up and provides a great opportunity for discussing the things we should and shouldn't keep secret. The book also includes a section at the end for adults on how to respond to disclosures.
About the Author
---
Daisy Law has over 17 years' experience as a teacher of English and literacy. As a teacher, she has been trained in safeguarding and understands the importance of children being able to disclose secrets. She lives in France with her children, who teach her about being young, happy and full of enthusiasm for exploring the world.