Singapore Sketchbook (Hardcover)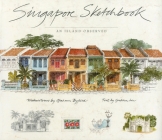 $30.00
This title is not currently in stock and may be unavailable for us to order. To find out, click on the Ask A Bookseller button.
Description
---
Singapore Sketchbook is a celebration of streets and buildings, classic scenes and marvelous architectural details. Singapore is a thriving, modern city; but a mixture of modernity and a rich heritage, often beautifully restored, gives it a unique character. The willingness to conserve the best of Singapore's old buildings, already well in evidence when the first edition of this book appeared, continues unabated and the results are recorded in paintings and pencil sketches produced specially for this new edition. A stroll through almost any part of the island will take you past enchanting restored shophouses and a variety of busy religious, civic and commercial structures.