112: Frances Pritchett and Owen Cornwall on Ghalib: Selected Poems and Letters
Please join us Sunday, April 30th at 4pm as we celebrate the release of Ghalib: Selected Poems and Letters with translators Frances Pritchett and Owen Cornwall. They will be joined by Krupa Shandilya.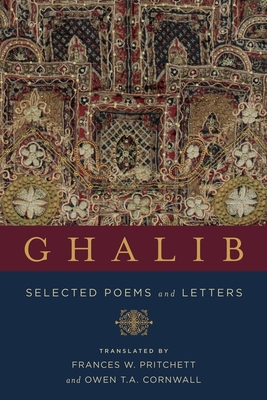 This selection of poetry and prose by Ghalib provides an accessible and wide-ranging introduction to the preeminent Urdu poet of the nineteenth century. Ghalib's poems, especially his ghazals, remain beloved throughout South Asia for their arresting intelligence and lively wit. His letters—informal, humorous, and deeply personal—reveal the vigor of his prose style and the warmth of his friendships. These careful translations allow readers with little or no knowledge of Urdu to appreciate the wide range of Ghalib's poetry, from his gift for extreme simplicity to his taste for unresolvable complexities of structure.
Beginning with a critical introduction for nonspecialists and specialists alike, Frances Pritchett and Owen Cornwall present a selection of Ghalib's works, carefully annotating details of poetic form. Their translation maintains line-for-line accuracy and thereby preserves complex poetic devices that play upon the tension between the two lines of each verse. The book includes whole ghazals, selected individual verses from other ghazals, poems in other genres, and letters. The book also includes a glossary, the Urdu text of the original poetry, and an appendix containing Ghalib's comments on his own verses.
Can't make it? Reserve a signed copy by calling our store today:

$68.75

ISBN: 9780231182065
Availability: Not In Stock - Usually ships in 3-5 Days
Published: Columbia University Press - March 28th, 2017
---