112: Lawrence Kramer on The Hum of the World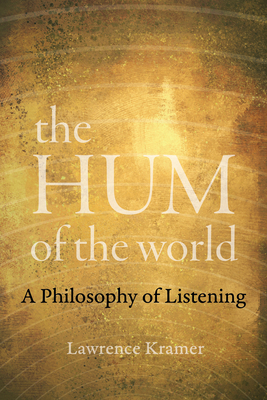 Join us at Book Culture on 112th Street on Wednesday, March 27th at 7PM as we welcome Lawrence Kramer to discuss his new book, The Hum of the World: A Philosophy on Listening. Associate Professor of Music Matthew Gelbart will be joining Lawrence in discussion.
The Hum of the World is an invitation to contemplate what would happen if we heard the world as attentively as we see it. Balancing big ideas with playful wit and lyrical prose, this imaginative volume identifies the role of sound in Western experience as the primary medium in which the presence and persistence of life acquire tangible form. The positive experience of aliveness is not merely in accord with sound, but inaccessible, even inconceivable, without it. Lawrence Kramer's poetic book roves freely over music, media, language, philosophy, and science from the ancient world to the present, along the way revealing how life is apprehended through sounds ranging from pandemonium to the faint background hum of the world. Easily moving from reflections on pivotal texts and music to the introduction of elemental concepts, this warm meditation on auditory culture uncovers the knowledge and pleasure made available when we recognize that the world is alive with sound.
---
Lawrence Kramer, Distinguished Professor of English and Music at Fordham University, is an award-winning composer and the author of fifteen previous books, most of them with University of California Press, including The Thought of Music, winner of the 2017 ASACP Virgil Thomson Award for Outstanding Music Criticism.
Fordham University Associate Professor of Music Matthew Gelbart is interested in how and why we listen to music and take meaning from it. His particular areas of focus have been in the classical and romantic periods, in Scottish folk music, and in British classic rock and punk.
Event address:
Book Culture
New York, NY 10025
Can't make it? Reserve a signed copy by calling our store today:

$32.95

ISBN: 9780520303492
Availability: Not In Stock - Usually ships in 3-5 Days
Published: University of California Press - March 19th, 2019
---