112: Poetry reading with Mark Solomon, Lee Sharkey, Martha Zweig, and Marc Kaminsky
Please join us Tuesday, April 25th at 7pm for a poetry reading featuring Mark Solomon, Lee Sharkey, Martha Zweig, and Marc Kaminsky.
Martha Zweig has new poems coming out soon in Spillway and SLICE. Her work has been featured in Poetry and has appeared in numerous print and on line journals. Heather McHugh, introducing a selection of Zweig's poems in The Boston Review wrote, "What do you get when you cross Flannery O'Connor with Gerard Manley Hopkins? Something sprung of rhythm, fierce of feeling, dappled down and doubled over, whistled out of terror and intelligence. Welcome to the work of Martha Zweig. . . This is a poet conscientious (not just conscious) of the generality of oddity, the countlessness of individuality. Shell and snow, machine and feather, pepper, petal, cell--they come and go in a creaturely eye. All have in common their peculiarity, their perishability. The big bad fish--that gobbles up the lesser lovelier one--which gobbled up the clownish, not-so-bad one--lives in a glass box. Zweig's own big bad eye is watching. Darwin's anagram is inward. Anything can die. But Zweig is quirkily equipped to note, in verse, the converse. There lurks about fatality a loveliness. The split pod spews a seed. The troubled lover shuffles out a sound. And soon, from the scruff of the wrung neck, spouts a song." Monkey Lightning (Tupelo Press, 2010) is her most recent book. Previous collections include What Kind (Wesleyan University Press, 2003); Vinegar Bone (Wesleyan University Press, 1999 and winner of the Mrs. Giles Whiting Award); and Powers (The Vermont Arts Council, 1976). Her newest book, Get Lost, won the 2014 Rousseau Prize and is forthcoming from The National Poetry Review Press.
Marc Kaminsky is a poet, essayist, and psychotherapist in private practice in Brooklyn. His latest book of poems, Kafka's Ax is forthcoming from Junction Press in 2017. His previous seven books of poetry include Shadow Traffic (Red Hen Press, 2007); Target Populations (Central Park Editions, 1991); The Road from Hiroshima (Simon & Schuster, 1984); and Daily Bread (University of Illinois). He has also published many essays and six books on aging, the culture of Yiddishkeit, reminiscing and storytelling including The Uses of Reminiscence (Haworth Press, 1984).
Some comments on his poetry:
D. Nurkse-- "Kaminsky has created a world more enduring than the dream of empire--a world in which freedom is possible. Shadow Traffic (Red Hen Press, 2007) is a radiant affirmation, an act of defiance, and a gift of love."
Eric Santner-- "Shadow Traffic is, above all, traffic in shadows, shades, ghosts; Kaminsky sets the table of offerings and these spirits return to tell of their migrations, their pain, their joys, their unredeemed traumas and longings. The result is a poetry and poetics of diaspora, the shadow passport we need now more than ever."
John Berger-- These "poems [Target Populations] come with all their attention and care, articulated, out of the never-ending 'roar' of the city--or like candles from the dim glow in the sky above the city at night."
Terrence Des Pres in American Book Review-- "Kaminsky's The Road from Hiroshima [is] a brave example of poetry holding its own against political horror. . . . Kaminsky is a poet who trusts the poetic transformation of ordinary language when the human need for expression engages, or has forced upon it, the great and terrible trials of existence. More than most poets . . . Kaminsky founds his art on an extraordinary talent for listening to others."
Armand Schwerner-- "The compassionate economy of Marc Kaminsky's speculative narratives honors the lost figures and dread states on which his poems focus--not that it's possible to settle accounts: within the quantifying society the poet is irrigating the ground for the survival of the singular."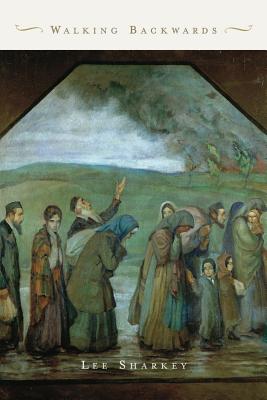 Lee Sharkey's work has appeared in Crazyhorse, FIELD, Kenyon Review, Massachusetts Review, Nimrod, Pleiades, Seattle Review, and other journals. About Sharkey's latest book, Anna Wrobel writes in Jewish Currents, "Walking Backwards (Tupelo Press, 2016), is about communion, reunion, dialogue — a Hasidic tale repairing the torn fabric of the universe, an attempt at restoration of human covenants, an Einsteinian walk along the space-time continuum of history. It is the rare poet who so deftly distills the historical record into poetic forms." Her earlier collections include Calendars of Fire (Tupelo, 2013), A Darker, Sweeter String (Off the Grid, 2008), and eight other full-length poetry books and chapbooks.
Mark Solomon lives in NYC where he was born in 1941. He received his BA in English from Columbia in 1962. His first published poems appeared in Broadway Boogie in 1973. In 1993 he received an MFA in Poetry from Warren Wilson College and has published in TriQuarterly, Hanging Loose, BOMB, The Marlboro Review, The Beloit Poetry Journal, Southern Poetry Review and other periodicals and anthologies. His first full collection, My True Body was published by Havel Havulim in 2016. His chapbook, Her Whom I Summoned, was published in 2015, also by Havel Havulim.