112: Stephen Orlov and Samah Sabawi on "Double Exposure"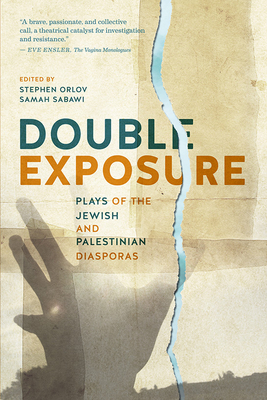 Please join us Sunday, April 23rd at 4pm for a discussion of Double Exposure: Plays of the Jewish and Palestinian Diasporas with editors Stephen Orlov and Samah Sabawi. They will be joined by Ismail Khalidi, contributing playwright and co-editor of the collection Inside/Outside: Six Plays from Palestine and the Diaspora. The discussion will be moderated by Leila Buck.
---
Stephen Orlov is a Montreal-based award-winning dramatist, whose plays have been showcased in such major theatre centres as Chicago and London. His plays include Isolated Incident (with Rahul Varma), Bow Ties, Salaam-Shalom, Sperm Count, Birthmark, and Freeze, which will be published by Guernica Editions later this year. Stephen leads master classes, most recently for the National Arts Festival of Saint Lucia and the Osher Program at Dartmouth College.
Samah Sabawi is an Australian Canadian poet, playwright, commentator, and essayist originally from Palestine. She has written Cries from the Land, Three Wishes, and Tales of a City by the Sea, which was selected for the 2016 VCE Drama List.
Leila Buck is a Lebanese American playwright, performer, and intercultural educator who has lived and worked across the U.S. and 22 countries. She has performed her own work and others at/with Lark Play Development Center, New York Theatre Workshop, The Wilma, Culture Project, Arena Stage, and the Public Theater, where she was a member of the inaugural Emerging Writers Group. Her work is published in Innovation in Five Acts; Etching Our Own Image: Voices from the Arab American Art Movement; Four Arab-American Plays, and TCG's Finding Home essay salon. M.A./Adjunct professor, Participatory Performance and Civic Engagement: NYU. www.leilabuck.com
Can't make it? Reserve a signed copy by calling our store today:

$34.95
ISBN: 9781770915626
Availability: On Our Shelves Now - Click Title to See Location Inventory.
Published: Playwrights Canada Press - March 14th, 2017
---

$19.95
ISBN: 9781559364799
Availability: On Our Shelves Now - Click Title to See Location Inventory.
Published: Theatre Communications Group - August 4th, 2015
---