112th: Alexander Hertel-Fernandez on Politics at Work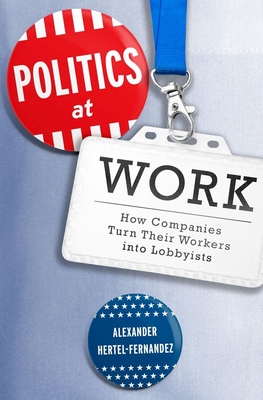 Join us at Book Culture on 112th as Alexander Hertel-Fernandez discusses his new book Politics at Work: How Companies Turn Their Workers Into Lobbyists on Monday, March 19th at 7pm. Alexander will be joined in conversation by Jacob S. Hacker.
Click here to RSVP on Facebook!
Employers are increasingly recruiting their workers into politics to change elections and public policy-sometimes in coercive ways. Using a diverse array of evidence, including national surveys of workers and employers, as well as in-depth interviews with top corporate managers, Alexander Hertel-Fernandez's Politics at Work explains why mobilization of workers has become an appealing corporate political strategy in recent decades. The book also assesses the effect of employer mobilization on the political process more broadly, including its consequences for electoral contests, policy debates, and political representation.
Hertel-Fernandez shows that while employer political recruitment has some benefits for American democracy-for instance, getting more workers to the polls-it also has troubling implications for our democratic system. Workers face considerable pressure to respond to their managers' political requests because of the economic power employers possess over workers. In spite of these worrisome patterns, Hertel-Fernandez found that corporate managers view the mobilization of their own workers as an important strategy for influencing politics. As he shows, companies consider mobilization of their workers to be even more effective at changing public policy than making campaign contributions or buying electoral ads.
Hertel-Fernandez closes with an array of solutions that could protect workers from employer political coercion and could also win the support of majorities of Americans. By carefully examining a growing yet underappreciated political practice, Politics at Work contributes to our understanding of the changing workplace, as well as the increasing power of corporations in American politics. It is essential reading for anyone interested in the connections between inequality, public policy, and American democracy.
---
Alexander Hertel-Fernandez is Assistant Professor of International and Public Affairs at Columbia University. A specialist on American politics and corporate power, his work has appeared in the American Prospect, MSNBC, the New York Times, the New Yorker, Salon, NPR, Talking Points Memo, Vox, and the Washington Post.
Jacob S. Hacker, Ph.D., is the Director of the Institution for Social and Policy Studies, and Stanley B. Resor Professor of Political Science at Yale University. He is also a board member of The Century Foundation, Economic Policy Institute, The American Prospect, and a member of the Scholars Strategy Network steering committee, and a former Junior Fellow of the Harvard Society of Fellows. An expert on the politics of U.S. health and social policy, he is the author most recently of American Amnesia: How the War on Government Led Us to Forget What Made America Prosper, written with Paul Pierson (Simon & Schuster, 2015).
Can't make it? Reserve a signed copy by calling our store today:

$29.95
ISBN: 9780190629892
Availability: On Our Shelves Now - Click Title to See Location Inventory.
Published: Oxford University Press, USA - March 2018
---