112th: Alfian Sa'at's Malay Sketches with Gina Apostol, Joel Tan, Nur Sabrina bte Dzulkifli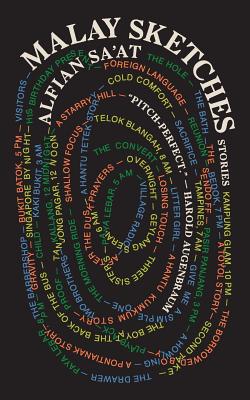 Join us on Thursday, April 5, at 7pm to celebrate the release of Malay Sketches at Book Culture on 112th, a collection of short stories by acclaimed Singaporean author and social critic Alfian Sa'at. Four writers, including Gina Apostol, Joel Tan, Nur Sabrina bte Dzulkifli, and Gaudy Boy publisher Jee Leong Koh, will read and respond to the collection, addressing issues of race, class, and identity against the sociopolitical backdrop of America. Malay Sketches is the inaugural title released by the new indie press Gaudy Boy, which publishes voices of Asian heritage.
A hijab-wearing schoolgirl who refuses to shake the president's hand. The hantu tetek—a ghost who kills children by squeezing their heads between her breasts. A Malay doctor embarrassed by his Malay patient's teen pregnancy. A sleeping boy on the bus who awakens a sudden feeling of tenderness in a lonely stranger.
Precise yet universal, grounded yet probing, Malay Sketches, praised by Harold Augenbraum as "pitch-perfect," gives us a prismatic window into the doubly minoritized Malay-Muslim community in Singapore and introduces Alfian Sa'at as a major contemporary author of searing insight, new perspective, and poetic grace to American readers for the first time.
A light Singaporean reception will follow the reading.
---
Gina Apostol's last novel, Gun Dealers' Daughter, won the 2013 PEN/Open Book Award and was shortlisted for the 2014 William Saroyan International Prize. Her first two novels, Bibliolepsy and The Revolution According to Raymundo Mata, both won the Juan Laya Prize for the Novel (Philippine National Book Award). Her essays and stories have appeared in The New York Times, Los Angeles Review of Books, Foreign Policy, Gettysburg Review, and Massachusetts Review.
Joel Tan is a Singaporean writer whose work ranges across theatre and multi-disciplinary performance. Recent work includes plays like Tango (Pangdemonium, 2017) and Mosaic (M1 Singapore Fringe, 2015), lecture performances like The Nature Museum, (Singapore International Festival of the Arts, 2017), and critical essays like "Fat Shame" published by the Substation Singapore. He is currently pursuing the Masters in Dramatic Writing at Drama Centre London, Central Saint Martins.
Nur Sabrina bte Dzulkifli has been awarded the SOTA-Ngee Ann Kongsi Outstanding Young Artist Award, the Singapore Unbound Fellowship, and the NAC Arts Scholarship (Undergraduate). Her notable writing credits include co-writing Bi(cara) with Sharda Harrison, and dramaturgy and text for Alessandra Fel's Under My Skin. Both shows were presented at the Singapore M1 Fringe Festival in 2016 and 2017 respectively. Her works have also been presented in Australia and London.
Jee Leong Koh is the publisher of the new NYC-based literary imprint Gaudy Boy. He is also the author of Steep Tea (Carcanet), named a Best Book of the Year by UK's Financial Times, and a Finalist by Lambda Literary. He has published three other books of poems and a book of zuihitsu, the last a finalist for the Singapore Literature Prize. His writings have been translated into Japanese, Chinese, Malay, Vietnamese, Russian, and Latvian.
Can't make it? Reserve a signed copy by calling our store today:

$16.95
ISBN: 9780982814239
Availability: On Our Shelves Now - Click Title to See Location Inventory.
Published: Gaudy Boy, LLC - March 1st, 2018
---