112th: Alicia Mountain on High Ground Coward
Please allow 3-4 days for order processing for ALL orders, in addition to shipping times.

We are currently working with very limited staffing and your patience is greatly appreciated. Thank you!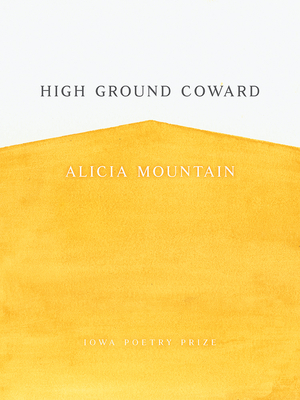 On Thursday, June 14th at 7pm, join us for a reading on Alicia Mountain's new book of poems, High Ground Coward, at Book Culture on 112th.
Alicia Mountain's urgent and astonishing debut collection maps a new queer landscape through terrain alive and sensual, defiant and inviting. With a voice that beckons while it howls, Mountain nimbly traverses lyric, confessional, and narrative modes, leaving groundbreaking tracks for us to follow. High Ground Coward offers fists full of soil, leftovers for breakfast, road trip as ritual, twins of lovers and twins of ourselves. This world blooms with hunger-inducing detail, its speakers asking us to consider what it will take to satisfy our own appetites while simultaneously trying to nourish one another. "Ferocious, even the softest part," Mountain shows us "a way to fall in love with wanting," leaving us "ravenous, but gradually."
Bearing witness to identity formation in solitude and communion, High Ground Coward is an almanac of emotional and relational seasons. Mountain's speakers question the meaning of inheritance, illness, violence, mythology, and family architecture. Whether Mountain is at work revealing the divinity of doubt, the entanglement of devotion, or the dominion that place holds over us, High Ground Coward heralds a thrilling poetic debut.
---
Alicia Mountain's first collection, High Ground Coward (University of Iowa Press, 2018), was selected by Brenda Shaughnessy as a winner of the Iowa Poetry Prize. She is also the author of the digital chapbook Thin Fire, selected by Natalie Diaz and published by BOAAT Press. Mountain is a queer poet, a PhD student, and an assistant editor of the Denver Quarterly. Keep up with her at aliciamountain.com.
Can't make it? Reserve a signed copy by calling our store today:

$19.95
ISBN: 9781609385453
Availability: On Our Shelves Now - Click Title to See Location Inventory.
Published: University Of Iowa Press - April 15th, 2018
---