112th: Anand Taneja on Jinnealogy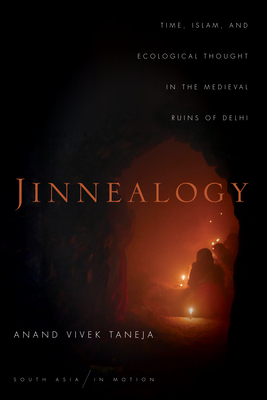 Join us on Thursday, December 7th at 7pm as Anand Taneja discusses Jinnealogy: Time, Islam, and Ecological Thought in the Medieval Ruins of Delhi at Book Culture on 112th. Anand will be joined in conversation by Debashree Mukherjee. This event is co-sponsored by the Columbia University Center for International History.
Click here to RSVP on Facebook!
In the ruins of a medieval palace in Delhi, a unique phenomenon occurs: Indians of all castes and creeds meet to socialize and ask the spirits for help. The spirits they entreat are Islamic jinns, and they write out requests as if petitioning the state. At a time when a Hindu right wing government in India is committed to normalizing a view of the past that paints Muslims as oppressors, Anand Vivek Taneja's Jinnealogy provides a fresh vision of religion, identity, and sacrality that runs counter to state-sanctioned history.
The ruin, Firoz Shah Kotla, is an unusually democratic religious space, characterized by freewheeling theological conversations, DIY rituals, and the sanctification of animals. Taneja observes the visitors, who come mainly from the Muslim and Dalit neighborhoods of Delhi, and uses their conversations and letters to the jinns as an archive of voices so often silenced. He finds that their veneration of the jinns recalls pre-modern religious traditions in which spiritual experience was inextricably tied to ecological surroundings. In this enchanted space, Taneja encounters a form of popular Islam that is not a relic of bygone days, but a vibrant form of resistance to state repression and post-colonial visions of India.
---
Anand Vivek Taneja is Assistant Professor of Religious Studies and Anthropology at Vanderbilt University.
Debashree Mukherjeeis an Assistant Professor in the Department of Middle Eastern, South Asian and African Studies at Columbia University. Her research and teaching centers on the history of modern South Asian visual cultures and industries, with a focus on late colonial Bombay cinema. Her current book project, "Parallel Action: Bombay Cinema and the Practice of Modernity," presents a material history of early Bombay cinema (1920s-1940s) that privileges practice, circuits of work, and technologies of production, and draws inspiration from her own experience of working in Mumbai's film and television industries in the early 2000s. Select publications include "Creating Cinema's Reading Publics: The Emergence of Film Journalism in Bombay," in No Limits: Media Studies from India (2013), "Scandalous Evidence: Looking for the Bombay Film Actress in an Absent Archive", in Doing Women's Film History: Reframing Cinema's Past and Future (2015), and "Tracking Utopias: Technology, Labor, and Secularism in Bombay Cinema," in Media/Utopia (2016). Debashree is an Editor with the peer-reviewed journal BioScope: South Asian Screen Studies.
The Center for International History is housed within the Department of History at Columbia University. It provides a forum for discussion and to foster historical perspectives on international issues of contemporary intellectual concern. It draws upon the collective intellectual resources, not only of the faculty and graduate students of the Department of History, but also of scholars from anthropology, political science, sociology, law and other adjacent fields as well as policy-makers, journalists and other practitioners. Its aim is to feature speakers and events that transcend or transform the public/academic divide and which critically engage with the production and consumption of historical knowledge across divisions of class, race and gender in our global communities.
Can't make it? Reserve a signed copy by calling our store today:

$29.95
ISBN: 9781503603936
Availability: On Our Shelves Now - Click Title to See Location Inventory.
Published: Stanford University Press - November 21st, 2017
---