112th: Anders Carlson-Wee on The Low Passions
Please allow 5-10 days for order processing for ALL orders, in addition to shipping times.

We are currently working with very limited staffing and your patience is greatly appreciated. Thank you!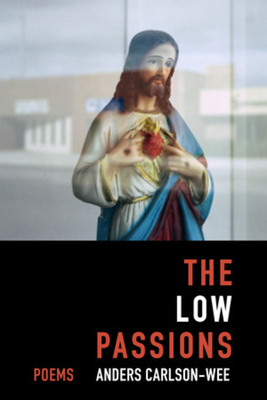 Join us at Book Culture on 112th on Monday, May 6th at 7pm as we welcome Anders Carlson-Wee to read from and discuss his new collection of poetry, The Low Passions. Greg Pardlo will be joining Anders in the discussion.
Explosive and incantatory, The Low Passions traces the fringes of the American experiment through the eyes of a young drifter. Pathologically frugal, reckless, and vulnerable, the narrator of these viscerally compelling poems hops freight trains, hitchhikes, dumpster dives, and sleeps in the homes of total strangers, scavenging forgotten and hardscrabble places for tangible forms of faith. A range of strong-willed characters takes shape, amplified by a chorus of monologues from the strangers who shelter him and the family he's left behind--each made manifest by the poet's devoted ear and sensitive eye.
---
Anders Carlson-Wee's poems have appeared in The Virginia Quarterly Review, The Kenyon Review, Ploughshares, BuzzFeed, and many other publications. The recipient of a fellowship from the National Endowment for the Arts and winner of the 2017 Poetry International Prize, he lives in Minneapolis.
Gregory Pardlo's ​collection​ Digest (Four Way Books) won the 2015 Pulitzer Prize for Poetry. His other honors​ include fellowships from the Guggenheim Foundation, the National Endowment for the Arts and the New York Foundation for the Arts; his first collection Totem was selected by Brenda Hillman for the APR/Honickman Prize in 2007. He is Poetry Editor of Virginia Quarterly Review and currently teaches in the graduate writing program at Rutgers-Camden University. Air Traffic, a memoir in essays, was released by Knopf in paperback in April.
Event address:
Book Culture
New York, NY 10025
Can't make it? Reserve a signed copy by calling our store today:

$26.95
ISBN: 9780393652383
Availability: On Our Shelves Now - Click Title to See Location Inventory.
Published: W. W. Norton & Company - March 12th, 2019
---

$16.95
ISBN: 9780525432210
Availability: On Our Shelves Now - Click Title to See Location Inventory.
Published: Vintage - March 19th, 2019
---