112th: Anelise Chen and Ed Park on So Many Olympic Exertions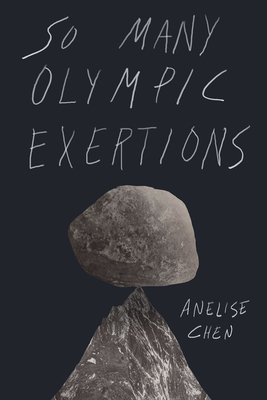 Join us Wednesday, October 4th to celebrate Anelise Chen's So Many Olympic Exertions! Anelise will be joined in conversation by Ed Park, author of Personal Days.
Click here to RSVP on Facebook!
Blending elements of memoir and sports writing, Anelise Chen's debut novel is an experimental work that perhaps most resembles what the ancient Greeks called hyponemata, or "notes to the self," in the form of observations, reminders and self-exhortations. Taken together, these notes constitute a personal handbook on "how to live"--or perhaps more urgently "why to live," a question the narrator, graduate student Athena Chen, desperately needs answering. When Chen hears news that her brilliant friend from college has committed suicide, she is thrown into a fugue of fear and doubt. Through anecdotes and close readings of moments in the sometimes harrowing world of sports, the novel questions the validity of our current narratives of success.
---
Anelise Chen is the author of So Many Olympic Exertions (Kaya Press 2017), an experimental novel that blends elements of sportswriting, memoir, and self help. Her essays and reviews have appeared in the New York Times, NPR, BOMB Magazine, New Republic, VICE, Village Voice and many other publications. She teaches writing at Columbia University, and writes a column about mollusks for The Paris Review.
Ed Park is the author of the novel Personal Days, which was a finalist for the PEN Hemingway and Asian American Literary awards. He's worked as an editor at Penguin Press, the Believer, and elsewhere.
Can't make it? Reserve a signed copy by calling our store today:

$17.95

ISBN: 9781885030351
Availability: On hand at one or more locations, see product page for details
Published: Kaya Press - June 27th, 2017
---

$17.00
Email or call for price
ISBN: 9780812978575
Published: Random House Trade Paperbacks - May 13th, 2008
---