112th: Antjie Krog on Lady Anne: A Chronicle in Verse with Yvette Christiansë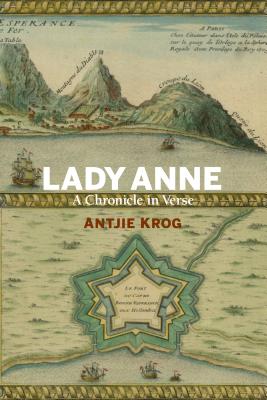 Please join us on Monday, October 2nd at 7:00pm at Book Culture on 112th as Barnard Africana Studies, The Dutch Program at Columbia University, and Literary Translation at Columbia present Antjie Krog's Lady Anne: A Chronicle in Verse. Antjie will be joined in conversation by Yvette Christiansë.
Click here to RSVP on Facebook!
Lady Anne: A Chronicle in Verse by Antjie Krog is the first English translation of an award winning book published in Afrikaans in 1989. It engages critically and creatively with a key moment of colonial history--the time Lady Anne Barnard spent at the Cape of Good Hope, from 1797 to 1802. Usually mentioned merely as a witty hostess of fabulous parties, Anne Lindsay Barnard, the daughter of a Scottish Earl and the wife of a colonial administrator, was an independent thinker and a painter and writer of genius. She left diaries, correspondence and watercolors documenting her experiences in this exotic land, the contact zone of colonizers and indigenous peoples. Antjie Krog acts as bard and chronicles an epic about this remarkable heroine's life in South Africa, and intertwines it with life two hundred years later in the same country but now in the throes of anti-apartheid anger and vicious states of emergency. Krog's powerful and eloquent bringing together of the past and the present, and the historical and the poetic embodies an experience that is as pertinent and compelling today in a democratic but still turbulent South Africa, as it is in the USA and other places where the intersections of race, identity, power, and language lie at the center of civic life.
---
Antjie Krog is one of South Africa's most renowned poets, essayists, critics and translators. Her prize winning book, Country of My Skull, about the Truth and Reconciliation Commission, has been translated into numerous languages, and was the basis of the film, In My Country. It received Sunday the Times/Alan Paton Award for nonfiction (1999), Sunday Times/Alan Paton Bookseller's Choice Award (1999), Bookseller's Choice Award (1999), Award from the Hiroshima Foundation for Peace and Culture (2000), and the Olive Schreiner Prize for prose (2001). Amond her many other honors are FNB Vita Poetry Award (2000), the South African Translators' Institute Award for Outstanding Translation (2003) and the Protea Poetry Prize (2007). Krog's strongly autobiographical verse includes 11 volumes, several of which have been translated into English (among other languages), including: Body Bereft (2011), Synapse (2014), Skinned (2013), and Lady Anne (2017). Krog has translated Nelson Mandela's Long Walk to Freedom (2001), works by Henk van Werden and Tom Lanoye, as well as a selection of South African verse written in indigenous southern African languages, into Afrikaans. This was followed by a reworking of narratives in /Xam language, which appearaed in English as The stars say 'tsay (2004). In addition to Country of My Skull, Krog's criticism includes A Change of Tongue, Begging to be Black, and Conditional Tense.
Yvette Christiansë is a South African-born poet, novelist, and scholar. She is the author of two books of poetry: Imprendehora (published in South Africa by Kwela Books/Snail Press 2009) and Castaway (Duke University Press, 1999). Imprendehora was a finalist for the Via Afrika Herman Charles Bosman Prize in 2010 and Castaway was a finalist in the 2001 PEN International Poetry Prize. Her novel Unconfessed (Other Press, 2006; Kwela Books, 2007; Querido, 2007) was a finalist for the Hemingway/PEN Prize for first fiction and received a 2007 ForeWord Magazine BEA Award. It was also shortlisted for the University of Johannesburg Prize and the International IMPAC Dublin Literary Award in 2008, and nominated for the Ama Ata Aidoo Prize 2010. Her poetry has been published in the U.S., South Africa, Australia, Canada, France and Italy. She is also the recipient of The Harri Jones Memorial Prize for poetry (Australia). Christiansë's book, Toni Morrison: An Ethnical Poetics (Fordham University Press, 2013) was honored by the Toni Morrison Society in 2015.
Can't make it? Reserve a signed copy by calling our store today:

$29.99

ISBN: 9781611488159
Availability: Not In Stock - Usually ships in 3-5 Days
Published: Bucknell University Press - January 11th, 2017
---