112th: Bill Christophersen on Resurrecting Leather-Stocking
Please allow 5-10 days for order processing for ALL orders, in addition to shipping times.

We are currently working with very limited staffing and your patience is greatly appreciated. Thank you!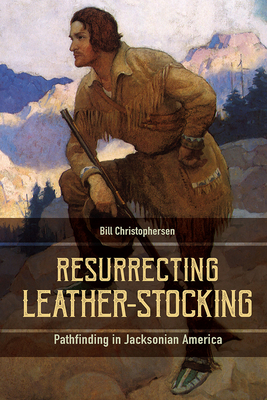 Join us at Book Culture on 112th on Tuesday, May 21st at 7pm as we welcome Bill Christophersen to discuss his newest book, Resurrecting Leather-Stocking: Pathfinding in Jacksonian America.
James Fenimore Cooper's Leather-Stocking tales--The Pioneers, The Last of the Mohicans, The Prairie, The Pathfinder, and The Deerslayer (1823-1841)--romantically portray frontier America during the colonial and early republican eras. Bill Christophersen's Resurrecting Leather-Stocking: Pathfinding in Jacksonian America suggests they also highlight problems plaguing nineteenth-century America during the contentious decades following the Missouri Compromise, when Congress admitted Missouri to the Union as a slave state.
During the 1820s and 1830s, the nation was riven by sectional animosity, slavery, prejudice, populist politics, and finally economic collapse. Christophersen argues that Cooper used his fictions to imagine a path forward for the Republic. Cooper, he further suggests, brought back Leather-Stocking to test whether the common man, as empowered by Jackson's presidency, was capable of republican virtue--something the author considered key to renewing the nation.
---
Bill Christophersen holds a PhD in English from Columbia University and is an independent scholar in New York City who has taught literature and writing at Fordham University, the City University of New York, and other institutions. The author of The Apparition in the Glass: Charles Brockden Brown's American Gothic and three poetry collections, Christophersen received the 2017 James Franklin Beard Award from the James Fenimore Cooper Society. His writing has appeared in American Literature, Early American Literature, Studies in American Fiction, New York Times Book Review, New Leader, and Poetry.
Event address:
Book Culture
New York, NY 10025
Can't make it? Reserve a signed copy by calling our store today:

$49.99
ISBN: 9781611179606
Availability: On Our Shelves Now - Click Title to See Location Inventory.
Published: University of South Carolina Press - April 5th, 2019
---