112th: Collecting the World with James Delbourgo and Christopher L. Brown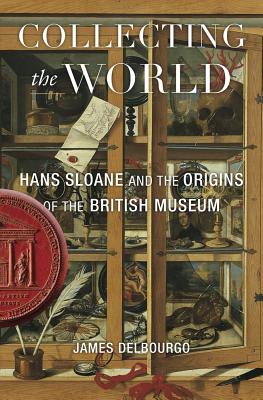 Join us on Thursday, October 26th at 7pm as we celebrate James Delbourgo's new book Collecting the World: Hans Sloane and the Origins of the British Museum at Book Culture on 112th St. James will be joined in conversation by Christopher L. Brown.
Click here to RSVP on Facebook!
In 1759 the British Museum opened its doors to the general public—the first free national museum in the world. James Delbourgo's biography of Hans Sloane recounts the story behind its creation, told through the life of a figure with an insatiable ambition to pit universal knowledge against superstition and the means to realize his dream.
Born in northern Ireland in 1660, Sloane amassed a fortune as a London society physician, becoming a member of the Whig establishment and president of the Royal Society and Royal College of Physicians. His wealth and contacts enabled him to assemble an encyclopedic collection of specimens and objects—the most famous cabinet of curiosities of its time. For Sloane, however, collecting a world of objects meant collecting a world of people, including slaves. His marriage to the heir of sugar plantations in Jamaica gave Sloane access to the experiences of planters and the folkways of their human property. With few curbs on his passion for collecting, he established a network of agents to supply artifacts from China, India, North America, the Caribbean, and beyond. Wampum beads, rare manuscripts, a shoe made from human skin—nothing was off limits to Sloane's imagination.
This splendidly illustrated volume offers a new perspective on the entanglements of global scientific discovery with imperialism in the eighteenth century. The first biography of Sloane based on the full range of his writings and collections, Collecting the World tells the rich and complex story of one of the Enlightenment's most controversial luminaries.
---
James Delbourgo is Associate Professor of History at Rutgers University and an associate of the History of Science Department at Harvard University.
Christopher L. Brown, Professor of History at Columbia University, specializes in the history of eighteenth century Britain, the early modern British Empire, and the comparative history of slavery and abolition, with secondary interests in the age of revolutions and the history of the Atlantic world. He is now at work on two projects, one on British experience along the West African coast in the era of the Atlantic slave trade, and a second on the decline and fall of the British Planter class in the era of abolition and emancipation.
Can't make it? Reserve a signed copy by calling our store today:

$35.00
ISBN: 9780674737334
Availability: On Our Shelves Now - Click Title to See Location Inventory.
Published: Belknap Press: An Imprint of Harvard Universi - July 31st, 2017
---