112th: Crossing Borders: Stories and Essays about Translation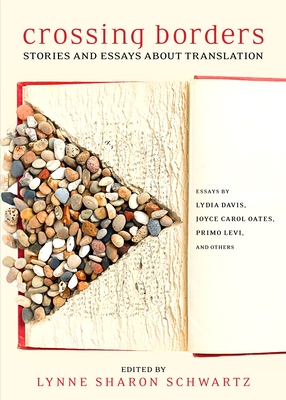 Join us on Thursday, February 15th at 7pm as we celebrate Crossing Borders: Stories and Essays about Translation, with editor Lynne Sharon Schwartz, at Book Culture on 112th! Lynne will be joined by a panel of contributors to the book, including Michelle Herman, Michael Scammell, Laura Esther Wolfson, and more to be announced.
In Joyce Carol Oates's story "The Translation," a traveler to an Eastern European country falls in love with a woman he gets to know through an interpreter. In Lydia Davis's "French Lesson I: Le Meurtre," what begins as a lesson in beginner's French takes a sinister turn. In the essay "On Translating and Being Translated," Primo Levi addresses the joys and difficulties awaiting the translator. Lynne Sharon Schwartz's Crossing Borders: Stories and Essays About Translation gathers together thirteen stories and five essays that explore the compromises, misunderstandings, traumas, and reconciliations we act out and embody through the art of translation. Guiding her selection is Schwartz's marvelous eye for finding hidden gems, bringing together Levi, Davis, and Oates with the likes of Michael Scammell, Harry Mathews, Chana Bloch, and so many other fine and intriguing voices.
Lynne Sharon Schwartz is the author of twenty-four books, three short story collections, three essay collections, two books of poetry, and three translations from Italian. Among them are the novels Rough Strife (nominated for a National Book Award) and Leaving Brooklyn (nominated for a PEN/Faulkner Award in fiction), and the memoirs Ruined by Reading and Not Now, Voyager. She has received grants from the Guggenheim Foundation, the NEA in fiction and translation, and the New York State Foundation for the Arts. She teaches at the Bennington Writing Seminars and Columbia University's School of the Arts, and has taught in many other places both in the US and abroad. Schwartz lives in New York City.
Michelle Herman is the author of three novels – Missing, Dog, and Devotion – and the novella collection A New and Glorious Life, as well as three essay collections – The Middle of Everything, Stories We Tell Ourselves (longlisted for the 2014 PEN/Diamonstein-Spielvogel Award for the Art of the Essay), and Like A Song (winner of the 2016 Devil's Kitchen Reading Award) – and a book for children, A Girl's Guide to Life.
Michael Scammell is the author of two prize-winning biographies, Koestler: The Literary and Political Odyssey of a Twentieth Century Skeptic, and Solzhenitsyn, a Biography, and has translated many works by Russian authors, including Tolstoy, Dostoevsky and Nabokov. He has also translated from Serb-Croatian and Slovenian, including (with Veno Taufer) Nothing Is Lost, the Selected Poems of Edvard Kocbek. He is currently working on a memoir.
Laura Esther Wolfson's distinctive blend of essay, first-person narrative and musings on language and books has appeared in Bellingham Review, Gettysburg Review, rumpus.net, The Sun, Zyzzyva and elsewhere, been repeatedly listed as "notable" in Best American Essays, and appeared in Swedish and Russian translation. She has worked as a diplomatic, conference and court interpreter and literary translator. Her translations include works on Russian obscenities and gulag slang and on Stalin's persecution of Yiddish authors. She works at a large international organization headquartered in New York City, where she translates from Russian, French, and Spanish into English.
Can't make it? Reserve a signed copy by calling our store today:

$28.95
Email or call for price
ISBN: 9781609807917
Published: Seven Stories Press - January 16th, 2018
---