112th: David Hajdu on "Love for Sale: Pop Music in America"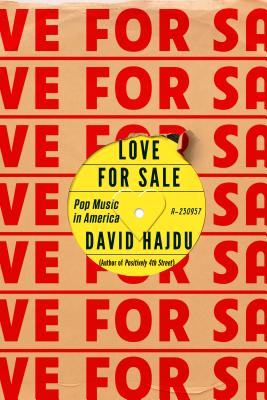 Please join us Thursday, March 2nd at 7pm for a reading and discussion with David Hajdu, author of Love for Sale: Pop Music in America. Alisa Solomon will join him for the conversation.
In Love for Sale, David Hajdu one of the most respected critics and music historians of our time draws on a lifetime of listening, playing, and writing about music to show how pop has done much more than peddle fantasies of love and sex to teenagers. From vaudeville singer Eva Tanguay, the I Don t Care Girl who upended Victorian conceptions of feminine propriety to become one of the biggest stars of her day to the scandal of Blondie playing disco at CBGB, Hajdu presents an incisive and idiosyncratic history of a form that has repeatedly upset social and cultural expectations. Masterly and impassioned, authoritative and at times deeply personal, Love for Sale is a book of critical history informed by its writer's own unique history as a besotted fan and lifelong student of pop.
---
David Hajdu is the music critic for The Nation and a professor at the Columbia University Graduate School of Journalism. He is the author of three books of narrative nonfiction and and one collection of essays:Lush Life: A Biography of Billy Strayhorn (1996), Positively 4th Street: The Lives and Times of Joan Baez, Bob Dylan, Mimi Baez Fariña, and Richard Fariña (2001), The Ten-Cent Plague: The Great Comic Book Scare and How It Changed America (2008), and Heroes and Villains: Essays on Music, Movies, Comics, and Culture (2009). He lives in Manhattan.
Alisa Solomon also teaches at Columbia University's Graduate School of Journalism, where she directs the Arts & Culture concentration in the MA program. A theater critic and general reporter for the Village Voice from 1983 to 2004, she has also contributed to The New York Times, The Nation, NewYorker.com, Tablet, and The Forward, among other publications. Solomon is the author of Wonder of Wonders: A Cultural History of Fiddler on the Roof, published in 2013, which won the Kurt Weill Prize for Outstanding Book on Music Theater (among other awards), and her first book, Re-Dressing the Canon: Essays on Theater and Gender, won the George Jean Nathan Award for Dramatic Criticism.

Can't make it? Reserve a signed copy by calling our store today:

$24.00

ISBN: 9781250058706
Availability: On hand at one or more locations, see product page for details
Published: Picador - September 2nd, 2014
---