112th: David Weinberger on Everyday Chaos
Please allow 5-10 days for order processing for ALL orders, in addition to shipping times.

We are currently working with very limited staffing and your patience is greatly appreciated. Thank you!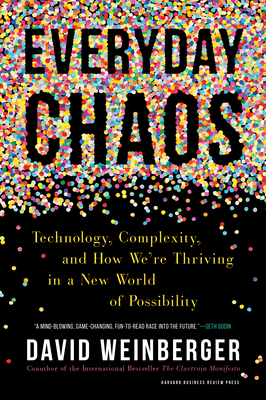 Join us at Book Culture on 112th Street on Wednesday, May 15th at 7pm as we welcome David Weinberger to discuss his new book, Everyday Chaos: Techology, Complexity, and How We're Thriving in a New World of Possibility. Jeff Jarvis will join in conversation.
Artificial intelligence, big data, modern science, and the internet are all revealing a fundamental truth: The world is vastly more complex and unpredictable than we've allowed ourselves to see.
Now that technology is enabling us to take advantage of all the chaos it's revealing, our understanding of how things happen is changing--and with it our deepest strategies for predicting, preparing for, and managing our world. This affects everything, from how we approach our everyday lives to how we make moral decisions and how we run our businesses.
Take machine learning, which makes better predictions about weather, medical diagnoses, and product performance than we do--but often does so at the expense of our understanding of how it arrived at those predictions. While this can be dangerous, accepting it is also liberating, for it enables us to harness the complexity of an immense amount of data around us. We are also turning to strategies that avoid anticipating the future altogether, such as A/B testing, Minimum Viable Products, open platforms, and user-modifiable video games. We even take for granted that a simple hashtag can organize unplanned, leaderless movements such as #MeToo.
Through stories from history, business, and technology, philosopher and technologist David Weinberger finds the unifying truths lying below the surface of the tools we take for granted--and a future in which our best strategy often requires holding back from anticipating and instead creating as many possibilities as we can. The book's imperative for business and beyond is simple: Make. More. Future.
The result is a world no longer focused on limitations but optimized for possibilities.
---
From the earliest days of the World Wide Web, David Weinberger has been a pioneering thought leader about the Internet's effect on our lives, on our businesses, and most of all, on our ideas. He has contributed to fields ranging from marketing to libraries to politics to journalism and more as a strategic marketing VP and consultant; an Internet adviser to presidential campaigns; an early social-networking entrepreneur; a writer-in-residence at Google; a senior researcher at Harvard's Berkman Klein Center for Internet & Society, a fellow at Harvard's Shorenstein Center on Media, Politics and Public Policy, and a Franklin Fellow at the US State Department. His writing has appeared in publications from Wired to Harvard Business Review and his books include the bestselling The Cluetrain Manifesto.
Jeff Jarvis is the Leonard Tow Professor of Journalism Innovation and director of the Tow-Knight Center for Entrepreneurial Journalism at the Craig Newmark Graduate School of Journalism at the City University of New York. He is the author of Geeks Bearing Gifts, Public Parts, What Would Google Do?, and Gutenberg the Geek" and is cohost of the podcast "This Week in Google." Previously, he was president and creative director of Advance.net, the online arm of Advance Publications (including Condé Nast and Newhouse Newspapers); creator and founding editor of Entertainment Weekly; Sunday editor and associate publisher of the New York Daily News; TV critic of TV Guide and People magazines; a columnist for the San Francisco Examiner; and an editor for the Chicago Tribune.
Event address:
Book Culture
New York, NY 10025
Can't make it? Reserve a signed copy by calling our store today:

$30.00
ISBN: 9781633693951
Availability: On Our Shelves Now - Click Title to See Location Inventory.
Published: Harvard Business Review Press - May 14th, 2019
---