112th: An evening of poetry with the contributors of If You're Not Happy Now
Please allow 3-4 days for order processing for ALL orders, in addition to shipping times.

We are currently working with very limited staffing and your patience is greatly appreciated. Thank you!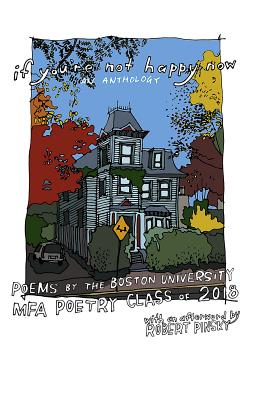 Join us at Book Culture on 112th on Friday June 14th at 7pm for an evening of poetry with Emily Yaremchuk, Kathleen Radigan, Lauren Peat, Rebecca Levi, Eric Hertz, Daniel Hardisty, Libby Goss, and Madeline Gilmore, all of whom contriubted to the poetry anthology, If You're Not Happy Now.
Poetry. Anthology from the Boston University MFA Poetry Class of 2018. In his afterword to this anthology of poetry by his recent students in the Boston University MFA program, Robert Pinsky observes, "This collection of poems demonstrates that a group of poets] can be remarkably creative, enormously imaginative--a quality that arises not from unanimity but from its opposite. The pronounced, even idiosyncratic differences among these eight young poets have manifested an unusual, engaging whole. All of us who know them agree that they are remarkably gifted as well as consistently generous with one another and with the world. The group is confident enough to produce this collection, with that confidence based in a shared understanding that as artists they are gifted in various, fluid ways."
There is perhaps no greater clich than the image of the lone and lonely poet, writing verse in isolation, and that makes this splendid collection all the more insightful, for it demonstrates that poetry not only can be a communal undertaking, but that it can be made all the better for arising out of community. All of these young poets display a mastery of form, of language and line, and though the voices are each unique and distinct, the resulting chorus is harmonious. Pinsky also observes that these poets "look out at the world." They understand the mission of poetry to document, and to challenge. True, they
often write from intensely personal perspectives, but for all the passions and pains, revelations and mysteries, these poems and poets never seem to cry "look at me," but rather "look at us," see who and what we are and where we have to go. As Pinsky, one last time, puts it, "The personal, here too, is also social." To read this anthology is to be assured that the future of poetry is in good hands. And that is good reason to be happy.
---
A native of Fairfax, Virginia, Emily Yaremchuk is an alumna of the University of Virginia, where she earned a Bachelor of Arts degree with high distinction in English and anthropology and participated in the Area Program in Poetry Writing. An avid fan of punk music and all things English, she aspires to live in London's West End...or somewhere thereabouts. Her poems have appeared in publications such as The Turnip Truck(s), the Virginia Literary Review, and The Mer- rimack Review, among others. She was recently awarded second-place in the 2017 Mick Imlah Poetry Prize for her poem "Tabula Rasa."

Kathleen Radigan is a native Rhode Islander. She graduated from Wesleyan University in 2017 with an English major and a psychology minor. She dabbled in theater and singing in college, worked at a pre- school and in an infant language learning lab, and won the English Department's Sophie and Anne Reed and Sarah Hannah prizes for poetry. Wesleyan also awarded her an Olin Fellowship to study ban- shees and other ghosts in Ireland. Her poems can be found on the The Academy of American Poets website and PANK blog and in The Adroit Journal, The Merrimack Review, The Harpoon Review, Maudlin House, Hermeneutic Chaos Literary Journal, and a few others.

Born in Boston, Massachusetts, Lauren Peat was raised in the English Midlands and the various boroughs of Toronto. An inter- mittent teacher, translator, and editor, she swears by Joni Mitchell's principle of creative "crop rotation": she has toured internationally with a competitive chamber choir, contributed libretti to original vocal compositions, and performed spoken word in Bordeaux, Paris, and Provence, France. Her favourite Joni Mitchell song is "A Case of You."

Rebecca Levi is a musician, poet, and translator. Originally from New York City, she graduated from Yale University in 2007 and since then has lived in Peru, Colombia, and the U.S. Her work has appeared in Columbia Journal, No Tokens Journal, Your Impossible Voice, BorderSenses, and with Princeton University Press. Her translations of Chilean poet Stella Díaz Varín won second place in the Robert Fitzgerald Translation Prize at Boston University, and her poem about pigs and break-ups, "December 31st," won third place in the 2018 Mick Imlah Poetry Prize at The Times Literary Supple- ment. Rebecca's band is called Debarro, meaning "of mud" and ever-changing, which also describes what she likes about poetry.

Eric Hertz has a B.A. in philosophy and religious studies from Stan- ford University and grew up in New Jersey before moving out to the West Coast. He wrote and published a collection of poetry, At the Park, through the Stanford Honors in the Arts Program; the book explores an imagined world of strange games. Eric likes to write at the intersections of eastern philosophy, psychoanalysis, mythology, religious ritual, and ecology.

Daniel Hardisty was born in the U.K. He studied English and creative writing at the University of East Anglia. His poems have appeared in Poetry London, Poetry Ireland Review, The Rialto, Poetry Salzburg Review, The Spectator, The Dark Horse, and elsewhere, as well as on the BBC. He has received an Arts Council award from Arts Council England and a New Writing North Award and was highly commended in the Faber New Poets competition in 2014. He became a joint U.S. and U.K. citizen in 2015.

Libby Goss grew up in Stow, Massachusetts. She holds a B.A. from New York University Gallatin in creative writing, marketing, and publishing. She is interested in narrative and blurring the border be- tween poetry and fiction and spends most of her free time running and listening to music from the 90s.

Born and raised in North Carolina, Madeline Gilmore moved to Brooklyn after receiving a Hubbard Hutchinson Memorial Fellow- ship from Williams College in 2015. In New York, she received a Brooklyn Poets fellowship, which helped inspire the long poem that appears in this anthology. Her poetry has appeared in Bluestem mag- azine and The New Guard, as well as Massachusetts's Best Emerging Poets anthology. Madeline doesn't know exactly what she'll be up to in the coming years, but she hopes she gets some good poetry out of them.
Event address:
Book Culture
New York, NY 10025
Can't make it? Reserve a signed copy by calling our store today:

$16.50
ISBN: 9781937968533
Availability: On Our Shelves Now - Click Title to See Location Inventory.
Published: Broadstone Books - March 1st, 2019
---