112th: eXfoliation ACLU Immigrant Rights Project benefit reading
Please join us this Tuesday, May 2nd at 7pm for the latest edition of the eXfoliation reading series with Louffa Press, featuring Robert Gibbons, Jee Leong Koh, Matthew Lansburgh, and Beatriz Albuquerque. This event is a benefit for the ACLU Immigrant Rights Project: publisher's proceeds from sales of Louffa Press chapbooks, broadsides, and ephemera for the event will be donated to the ACLU.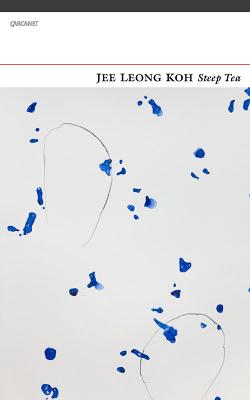 Louffa Press specializes in innovative fiction and poetry, with a catalogue including writers such as Steve Katz, Yuriy Tarnawsky, Stacey Levine, Mike Topp, and others.
Robert Gibbons received the Norman Mailer Poetry Fellowship in 2016, and has been published in Killer Whale, Suisun Valley Review, Turtle Island Quarterly, Fruita Pulpa, About Place Journal, Brownstone Anthology, and Riverside Anthology. His first collection of poetry, Close To the Tree, was published in 2012 by Three Rooms Press. He is presently completing a MFA in Creative Writing at City College in Harlem.
Jee Leong Koh's book of poems, Steep Tea (Carcanet, 2015) was named a Best Book of the Year by UK's Financial Times, and a Finalist by Lambda Literary. He is the author of three other books of poems and a book of zuihitsu. His work has been translated into Japanese, Chinese, Vietnamese, Russian, and Latvian. Originally from Singapore, he lives and teaches in New York City.
Matthew Lansburgh's collection of linked stories, Outside Is the Ocean, won the 2017 Iowa Short Fiction Award and will be published by the University of Iowa Press this fall. His fiction has appeared or is forthcoming in Glimmer Train, StoryQuarterly, Ecotone, Columbia, The Florida Review, Guernica, and elsewhere. He was the winner of Columbia Journal's fiction contest in 2014 and The Florida Review's fiction contest in 2015.
Beatriz Albuquerque is an interdisciplinary Portuguese artist living in New York. Awards include the Breakthrough Award for the 17th Biennial Cerveira; Myers Art Prize Award from Columbia University, New York; and the Premio Ambient Performance Series, PAC / edge Performance Festival, Chicago. Her artist book, Election 2016 (Louffa Press, 2016) is the first in a series of artist books to be published by Louffa Press exploring the meeting points in the performance of rhetoric in American life.
The eXfoliation reading series is hosted by David Moscovich and Louffa Press.