112th: F. Diane Barth on I Know How You Feel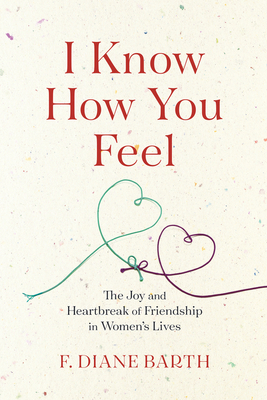 Join us on Tuesday, February 20th at 7pm as F. Diane Barth discusses her new book I Know How You Feel at Book Culture on 112th!
These are questions that F. Diane Barth, a psychotherapist widely recognized for her expertise in women's relationships, fields all the time. In I Know How You Feel, she draws out engaging stories from a lively and diverse cast of women, many of whom speak about feelings they haven't shared before. She explores how life changes affect women's friendships in subtle and not-so-subtle ways. Interweaving examples from classic women's literature to chick flicks, she provides grounded advice on how to manage betrayal and rejection, how to deal with a narcissistic or bossy friend, what to do when your best friend and your family don't get along, how to let go of a friendship that has stopped working, and much more. A timely, empathetic guide for women in their twenties to their sixties and beyond.
F. Diane Barth has worked as a psychotherapist in New York City for more than three decades. Her Psychology Today blog, often on the subject of women's friendships, has over six million views.
Can't make it? Reserve a signed copy by calling our store today:

$27.00
ISBN: 9780544870277
Availability: On Our Shelves Now - Click Title to See Location Inventory.
Published: Houghton Mifflin - February 6th, 2018
---