112th: Hassan Najmi on The Blueness of the Evening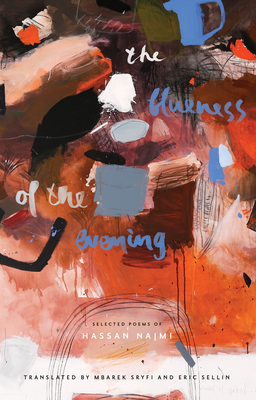 Come to Book Culture on 112th to celebrate the release of Hassan Najmi's first English translation of his poetry collection, The Blueness of the Evening on Thursday, April 19th at 7pm! Hassan will be joined by a panel consisting of Madeleine Dobie, Kathy Engel, Julio Ramos, and Mbarek Sryfi.
This selection of Hassan Najmi's poems, translated by Mbarek Sryfi and Eric Sellin, provides an excellent introduction to the work of one of Morocco's foremost poets and to a school of modern verse emerging in the Arab World. Scenes of late night cityscapes, lonely interiors, awe-inspiring desert wastes, and seaside vistas are found within the exquisitely subtle lyric moods and nuances of Najmi's ars poetica, providing insight into the geographical, political, and linguistic ferment that have made Morocco an exciting hub of creative activity in the twenty-first century.
---
Hassan Najmi, born in Ben Ahmed in 1960, now resides in Rabat. He is the author of two novels and ten poetry collections. His poetry has been translated into more than ten languages and he has himself translated many poets into Arabic, including Giuseppe Ungaretti, Sophia de Mello Breyner Andresen, Philippe Jaccottet, Yannis Ritsos, and Anna Akhmatova.
Madeleine Dobie is Professor of French and Comparative Literature, Columbia University.
Kathy Engel is Associate Arts Professor and Chair of of the Department of Art & Public Policy, Tisch School of the Arts, NYU.
Julio Ramos is Professor Emeritus of Latin American Literature at the University of California- Berkeley.
Mabarek Sryfi is translator and Lecturer in Foreign Lanuages at the University of Pennsylvania.
Can't make it? Reserve a signed copy by calling our store today:

$17.95
ISBN: 9781682260500
Availability: Not in Stock - Available for special order
Published: University of Arkansas Press - March 2018
---