112th: Jack Wertheimer on The New American Judaism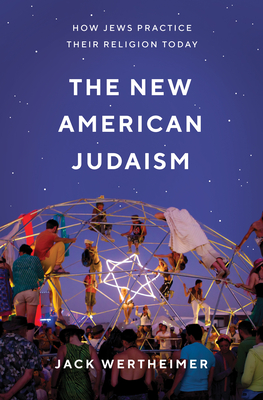 Join us at Book Culture on 112th as Jack Wertheimer discusses his new book, The New American Judaism: How Jews Practice Their Religion Today on Thursday, October 11th at 7pm!
A leading expert provides an engaging first-hand portrait of American Judaism today
American Judaism has been buffeted by massive social upheavals in recent decades. Like other religions in this country, it has witnessed a decline in the number of participants over the past forty years, and many who remain active struggle to reconcile their hallowed traditions with new perspectives--from feminism and the LGBTQ movement to "do-it-yourself religion" and personally defined spirituality. Taking a fresh look at American Judaism today, Jack Wertheimer, a leading authority on the subject, sets out to discover how Jews of various orientations practice their religion in this radically altered landscape. Which observances still resonate and which ones have been given new meaning? What options are available for seekers or those dissatisfied with conventional forms of Judaism? And how are synagogues responding?
Wertheimer provides often-surprising new answers to these questions by drawing on a wide range of sources, including survey data, visits to countless synagogues, and revealing interviews with more than two hundred rabbis and other informed observers. He finds that the majority of American Jews still identify with their faith but often practice it on their own terms. Meanwhile, gender barriers are loosening within religiously traditional communities, while some of the most progressive sectors are reappropriating long-discarded practices. Other recent developments include "start-ups" led by charismatic young rabbis, the explosive growth of Orthodox "outreach," and unconventional worship experiences often geared toward millennials.
Wertheimer captures the remarkable, if at times jarring, tableaux on display when American Jews practice their religion, while also revealing possibilities for significant renewal in American Judaism. What emerges is a quintessentially American story of rash disruption and creative reinvention, religious illiteracy and dynamic experimentation.
---
Jack Wertheimer is professor of American Jewish history at the Jewish Theological Seminary. His many books include The New Jewish Leaders: Transforming American Jewish Life, Family Matters: Jewish Education in an Age of Choice, and A People Divided: Judaism in Contemporary America.
Event address:
Book Culture
New York, NY 10025
Can't make it? Reserve a signed copy by calling our store today:

$29.95
ISBN: 9780691181295
Availability: On Our Shelves Now - Click Title to See Location Inventory.
Published: Princeton University Press - August 28th, 2018
---