112th: Jaclyn Piudik on To Suture What Frays
Please allow 3-4 days for order processing for ALL orders, in addition to shipping times.

We are currently working with very limited staffing and your patience is greatly appreciated. Thank you!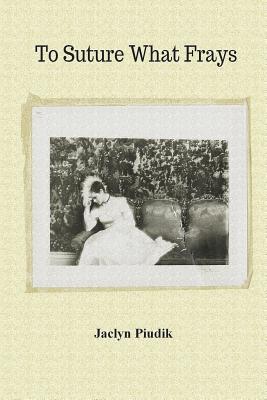 Join us at Book Culture on 112th as Jaclyn Piudik reads from her new collection of poems, To Suture What Frays, on Wednesday, June 6th at 7pm. Joy Gaines-Friedler will read from her new book Capture Theory and Dean Kostos will also read from his newest collection, Pierced by Night-Colored Threads.
"Poet Jaclyn Piudik has an unerring ear for the distillates of language. In To Suture What Frays, one finds a sound-sense flecked with the colloquial, personal, Hebraic and the arcane. Yet, Piudik's polyvalence is new-alive with the sacramental offering that's at the center of all good poetry. Here, the reader will find an edifying and earful poetique. When Piudik writes of "when heart was not a dirty word / or an excuse for a poem / but the edge of adornment / revolved around the geometry / of a soap-stained city," she doesn't eschew the darkness that underpins her song-she embraces it, in a wondrous estrangement that juxtaposes truth and art. There's no doubt that Piudik is fearless in her inventory-no corner of the mind is left unexamined-and yet her work is plural. Where else could one find poems of Shiva, Sex and Reblochon? Amen."
-Mark Goldstein, author of Form of Forms (BookThug 2012)
"In Jaclyn Piudik's debut book, we find re-collections, lyric narratives and speculations on the chain of becoming. Her poignant poems ask and disclose as they arrive and provoke "the impossible colors of poetry," "a cosmological hunger." The poetry here stitches a human kinship-personal, shared-and the desire that hungers through it all."
-Hoa Nguyen, author of Violet Energy Ingots (Wave Books 2016), nominated for the 2017 Griffin Poetry Prize.
"To Suture What Frays is an incandescent first full-length collection from a poet who draws on a broad array of experience in vibrant cartographies and histories to write the body and soul. Jaclyn Piudik's lyrical voice creates spaces that crackle with meaning, absences where the unsaid holds more than can be spoken. Trained as a scholar in medieval Romance and Hebrew literatures, she brings unique scholarly insight that infuses her strikingly rich poetry with the echoes of medieval dawn songs, French autobiographical lyric and the cadences of Latin. Her poems sing with the dynamism generated by incarnate language that renders the ineffable visible and palpable. Jaclyn Piudik's beautiful poems invite us to hunger for the "impossible colors of poetry" and to immerse ourselves in the elusive, sensuous texture of these achingly beautiful poems."
-Jill Ross, Director of the Centre for Comparative Literature, University of Toronto; Associate Professor of Medieval Studies.
---
Jaclyn Piudik has authored two chapbooks, Of Gazelles Unheard (Beautiful Outlaw, 2013) and The Tao of Loathliness (fooliar press, 2005/2008). Her poems have appeared in numerous anthologies and journals, including Contemporary Verse 2, The New Quarterly, Columbia Poetry Review, La Presa and New American Writing. She has edited three collections of poetry for award winning Canadian publisher BookThug and is the recipient of a New York Times Fellowship for Creative Writing, and the Alice M. Sellers Award from the Academy of American Poets. Jaclyn holds an M.A. in Creative Writing from the City College of New York and a Ph.D. in Medieval Studies from the University of Toronto.
Joy Gaines-Friedler's previous books are titled: Like Vapor (Mayapple Press, 2008) & Dutiful Heart (Broadkill River Review Press, 2013). Joy earned an MFA in Creative Writing from Ashland University in Ohio and studied for her Masters in English Literature at Oakland University. Her poems and essays are published in over 100 literary magazines and anthologies. A multiple Pushcart nominee, Joy has received awards from, Ekphrastic Magazine, The Litchfield Review, Writers Digest, The Patterson Review, The Alan Ginsberg Poetry Award, The Tom Howard Prize, The Marjorie Wilson Award for Excellence in Poetry, among others. Her work has appeared in numerous anthologies including The Bloomsbury Anthology of Contemporary Jewish American Poetry, and Poetry in Michigan in Poetry. Joy teaches Creative Writing for non-profits in the Detroit area, colleges and universities, & privately.
Dean Kostos's most recent collection is Pierced by Night-Colored Threads. His previous books include This Is Not a Skyscraper (recipient of the Benjamin Saltman Poetry Award, selected by Mark Doty), Rivering, Last Supper of the Senses, The Sentence That Ends with a Comma, and the chapbook Celestial Rust. He edited Mama's Boy (a Lambda Book Award finalist) and edited Pomegranate Seeds (its debut reading was held at the United Nations). His poems and essays have appeared in over 300 journals and anthologies, such asBoulevard, Chelsea, Cimarron Review, Mediterranean Poetry (Sweden), Southwest Review, Stand Magazine (UK), Western Humanities Review, and on Oprah Winfrey's website Oxygen.com. His choral text, Dialogue: Angel of War, Angel of Peace, was set to music by James Bassi and performed by Voices of Ascension. His literary criticism has appeared on the Harvard UP website and elsewhere. A multiple Pushcart-Prize nominee, he served as literary judge for Columbia University's Gold Crown Awards and received a Yaddo fellowship. He has taught at Wesleyan, The Gallatin School of NYU, and The City University of New York. His poem "Subway Silk" was translated into a film by Jill Clark and screened at Tribeca and at the San Francisco Indiefest. He presented his paper "Schemes and Schemata: Endless Play" and read his poems at Harvard's Mahindra Humanities Center.
Can't make it? Reserve a signed copy by calling our store today:

$17.00
ISBN: 9781947465268
Availability: On Our Shelves Now - Click Title to See Location Inventory.
Published: Kelsay Books - November 22nd, 2017
---