112th: Jennifer Cody Epstein on Sarah Coleman's The Realist
Please allow 3-4 days for order processing for ALL orders, in addition to shipping times.

We are currently working with very limited staffing and your patience is greatly appreciated. Thank you!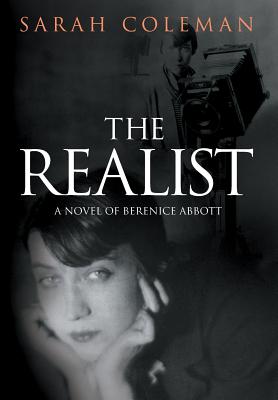 Join us at Book Culture on 112th as Jennifer Cody Epstein discusses Sarah Coleman's biographical novel, The Realist: A Novel of Bernice Abbott on Tuesday, May 22nd at 7pm.
Cleveland, 1910: For a poor girl whose father has abandoned her, the prospect of becoming an artist is almost non-existent. But Bernice Abbott is resourceful and will happily challenge convention in order to succeed.
Setting out to fulfill her dream, she embarks on a journey that will take her from bohemian Greenwich Village to the giddy caf's of 1920s Paris to a New York rising from the ashes of the Great Depression. On the way, illness and a tragic romance test her mettle, but a lucky coincidence leads her to the emerging art form of photography.
Transforming herself from 'dull' Bernice to cosmopolitan Berenice, she sets the tone for life as a portrait photographer in the Paris of Hemingway and Picasso, and prepares to take on the men who are threatened by her vision and strength.
---
Sarah Coleman wrote about photography, visual art and film for publications including ARTnews, Salon, Communication Arts, Photo District News and View Camera. She received a Masters of Fine Arts in creative writing from Columbia University and was a resident artist at Yaddo, Ragdale, the Vermont Studio Center and the Virginia Center for Creative Arts. She blogged about photography and literature at theliteratelens.com, and lived in Manhattan and Woodstock, NY with her husband and two children. Sarah died from lung cancer, shortly after completing The Realist, in December 2017.
Jennifer Cody Epstein is an unrepentant book addict and the author of The Gods of Heavenly Punishment, as well as the international bestseller The Painter from Shanghai. She has also written for The Wall Street Journal, The Asian Wall Street Journal, Vogue, The Nation (Thailand), Self and Mademoiselle magazines, and the NBC and HBO networks, working in Kyoto, Tokyo, Hong Kong and Bangkok as well as Washington D.C. and New York. Jennifer has taught at Columbia University in New York and Doshisha University in Kyoto, and has an MFA from Columbia, a Masters of International Relations from the Johns Hopkins School of Advanced International Studies, and a BA in Asian Studies/English from Amherst College. Jennifer currently lives in Brooklyn, NY with her husband, filmmaker Michael Epstein, her two amazing daughters and an exceptionally needy Springer Spaniel.
Can't make it? Reserve a signed copy by calling our store today:

$26.00
ISBN: 9781781327302
Availability: On Our Shelves Now - Click Title to See Location Inventory.
Published: Silverwood Books - December 5th, 2017
---