112th: Louise Meintjes on Dust of the Zulu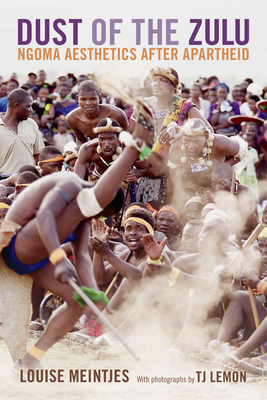 Please join us on Wednesday, November 29th at 7pm as Louise Meintjes discusses Dust of the Zulu at Book Culture on 112th. Louise will be joined in conversation by Siyazi Zulu, Gavin Steingo, Ana M. Ochoa, and Cesar Colon Montijo.
In Dust of the Zulu Louise Meintjes traces the political and aesthetic significance of ngoma, a competitive form of dance and music that emerged out of the legacies of colonialism and apartheid in South Africa. Contextualizing ngoma within South Africa's history of violence, migrant labor, the HIV epidemic, and the world music market, Meintjes follows a community ngoma team and its professional subgroup during the twenty years after apartheid's end. She intricately ties aesthetics to politics, embodiment to the voice, and masculine anger to eloquence and virtuosity, relating the visceral experience of ngoma performances as they embody the expanse of South African history. Meintjes also shows how ngoma helps build community, cultivate responsible manhood, and provide its participants with a means to reconcile South Africa's past with its postapartheid future. Dust of the Zulu includes over one hundred photographs of ngoma performances, the majority taken by award-winning photojournalist TJ Lemon.
---
Louise Meintjes is Associate Professor of Music and Cultural Anthropology at Duke University and the author of Sound of Africa! Making Music Zulu in a South African Studio, also published by Duke University Press.
Siyazi Zulu is a dancer, composer, and choreographer who leads Umzansi Zulu Dancers, a professional men's ngoma team based in KwaZulu-Natal and Johannesburg, South Africa. He has worked alongside Johnny Clegg, and is featured in Dust of the Zulu. Umzansi Zulu Dancers have toured internationally and released 8 music recordings. http://umzansizuludance.com/
Gavin Steingo is an Assistant Professor of Music at Princeton University. His book, entitled Kwaito's Promise: Music and the Aesthetics of Freedom in South Africa (University of Chicago Press, 2016), was awarded the Alan P. Merriam prize by the Society for Ethnomusicology. With Jairo Moreno, he edits the book series "Critical Conjunctures in Music and Sound" for Oxford University Press.
Ana M. Ochoa is professor at the Department of Music and the Center for the Study of Ethnicity and Race. Her book Aurality: Listening and Knowledge in Nineteenth- Century Colombia (Duke University Press) received the Alan Merriam award of the Society for Ethnomusicology in 2015. She has published on music and armed conflict, music and cultural policy and histories of listening in Spanish, Portuguese and English.
César Colón-Montijo is a journalist and doctoral candidate in ethnomusicology at Columbia University. He is the editor of Cocinando Suave: Ensayos de Salsa en Puerto Rico (2015), a collection of scholarly, historical, and journalistic essays, poems, and photo essays about the histories of salsa in Puerto Rico. César's doctoral dissertation studies the life and music of Afro-Puerto Rican salsa singer Ismael "Maelo" Rivera (1931-1987) through ethnographic research conducted in Venezuela, Panamá, and Puerto Rico since 2006.
Can't make it? Reserve a signed copy by calling our store today:

$34.74

ISBN: 9780822362654
Availability: Not In Stock - Usually ships in 3-5 Days
Published: Duke University Press - August 23rd, 2017
---