112th: Luvvie Ajayi on I'm Judging You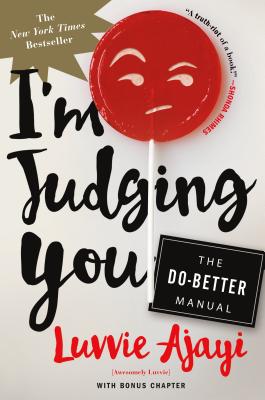 Join us on Monday, December 4th at 7pm as Luvvie Ajayi discusses I'm Judging You at Book Culture on 112th, featuring a special hardcover edition of I'm Judging You! Luvvie will be joined in conversation by Vanessa De Luca, editor-in-chief of Essence magazine.
Click here to RSVP on Facebook!
Comedian, activist, and hugely popular culture blogger at AwesomelyLuvvie.com, Luvvie Ajayi, serves up necessary advice for the masses in this hilarious book of essays
With over 500,000 readers a month at her enormously popular blog, AwesomelyLuvvie.com, Luvvie Ajayi is a go-to source for smart takes on pop culture. I'm Judging You is her debut book of humorous essays that dissects our cultural obsessions and calls out bad behavior in our increasingly digital, connected lives. It passes on lessons and side-eyes on life, social media, culture, and fame, from addressing those terrible friends we all have to serious discussions of race and media representation to what to do about your fool cousin sharing casket pictures from Grandma's wake on Facebook.
With a lighthearted, razor sharp wit and a unique perspective, I'm Judging You is the handbook the world needs, doling out the hard truths and a road map for bringing some "act right" into our lives, social media, and popular culture. It is the Do-Better Manual.
---
Luvvie Ajayi is an award-winning writer, pop-culture critic, and professional troublemaker who thrives at the intersection of comedy, technology, and activism. She is the person who often says what you're thinking but dared not say because you have a filter and a job to protect. She is also a digital strategist, noted speaker, core team member on Glennon Doyle's "Together" tour, and executive director of The Red Pump Project, a national HIV/AIDS organization.
Vanessa K. De Luca is Editor-in-Chief of Essence magazine, the preeminent lifestyle magazine for African-American women. As the brand's editorial leader, she oversees the content and vision for Essence's various brand extensions. Prior to joining Essence, she served in a variety of editorial capacities at publications such as Life and Glamour. An award-winning journalist and coauthor of the bestselling beauty and empowerment book, Tyra Banks Beauty Inside & Out, De Luca has been a featured guest on several national television networks, including NBC's TODAY Show; MSNBC's Morning Joe; CNN; HLN; and more. De Luca received her Bachelor of Arts degree, cum laude, in English and American Literature from Harvard University, and her Master of Science in Magazine Concentration from Columbia University Graduate School of Journalism. She sits on the board of directors of ColorComm, a networking organization for women of color in communications, and the International Black Women's Public Policy Institute. Her honors include Advertising Age's A-List for 2015, a distinguished Alumni Award from Columbia University's Graduate School of Journalism, and two American Society of Magazine Editors (ASME) Award nominations for Video and General Excellence in the Service and Lifestyle category. She was also named by Fortune Magazine as one of the 55 Most Powerful Women on Twitter. De Luca resides with her family in Scotch Plains, New Jersey.
Can't make it? Reserve a signed copy by calling our store today:

$27.00
ISBN: 9781250195173
Availability: Not in Stock - Available for special order
Published: Henry Holt and Co. - November 21st, 2017
---