112th: Matthew Lansburgh and Paul Lisicky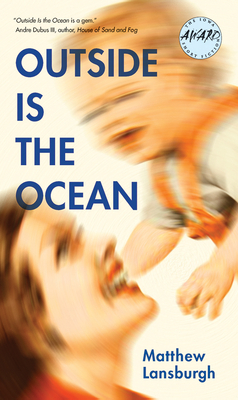 Join us on Monday, November 6th at 7pm to celebrate Matthew Lansburgh's award-winning short story collection Outside is the Ocean at Book Culture on 112th. Matthew will be joined in conversation by Paul Lisicky, author most recently of The Narrow Door.
Click here to RSVP on Facebook!
Three days after her 20th birthday, a young woman who grew up in Germany during World War II crosses the Atlantic to start a new life. Outside Is the Ocean traces Heike's struggle to find love and happiness in America. After two marriages and a troubled relationship with her son, Heike adopts a disabled child from Russia, a strong-willed girl named Galina who Heike hopes will give her the affection and companionship she craves. As Galina grows up, Heike's grasp on reality frays, and she writes a series of letters to the son she thinks has abandoned her forever. It isn't until Heike's death that her son finds these letters and realizes how skewed his mother's perceptions actually were.
Outside Is the Ocean is about a mother and son who spend their lives searching for a sense of belonging that neither is able to find. Ironically, this turns out to be one of the few traits they share in common. This collection of linked stories examines the tenuous nature of family in America today—the struggles we undertake to distance ourselves from those we are supposed to love, and our ill-fated efforts to form bonds with the strangers we come across in our journey through life..
---
In selecting Matthew Lansburgh's collection of linked stories, Outside Is the Ocean, as the winner of the 2017 Iowa Short Fiction Award, Andre Dubus III described the book as "mesmerizing." Matthew's fiction has appeared in Glimmer Train, StoryQuarterly, Columbia Journal, The Florida Review, Guernica, Ecotone, Michigan Quarterly Review, and Joyland, and his work has been nominated for four Pushcart Prizes. He received an MFA from NYU, where he received a Veterans Writing Fellowship.
Paul Lisicky is the author of five books: The Narrow Door (a New York Times Editors' Choice), Unbuilt Projects, The Burning House, Famous Builder,and Lawnboy. His work has appeared in The New York Times, The Atlantic, BuzzFeed, Conjunctions, Ecotone, Fence, The Offing, Ploughshares, Tin House,and in many other magazines and anthologies. A 2016 Guggenheim Fellow, he has received awards from the National Endowment for the Arts, the James Michener/Copernicus Society, the Corporation of Yaddo, and the Fine Arts Work Center in Provincetown, where he was twice a Fellow. He has taught in the creative writing programs at Cornell University, New York University, Rutgers University-Newark, Sarah Lawrence College, the University of North Carolina Wilmington, and elsewhere. He is currently an Associate Professor in the MFA Program at Rutgers University-Camden.
Can't make it? Reserve a signed copy by calling our store today:

$17.00
ISBN: 9781609385279
Availability: On Our Shelves Now - Click Title to See Location Inventory.
Published: University Of Iowa Press - October 15th, 2017
---

$16.00
ISBN: 9781555977283
Availability: On Our Shelves Now - Click Title to See Location Inventory.
Published: Graywolf Press - January 19th, 2016
---