112th: Melissa Coss Aquino & Amanda Galvan Huynh on Of Color: Poets' Way of Making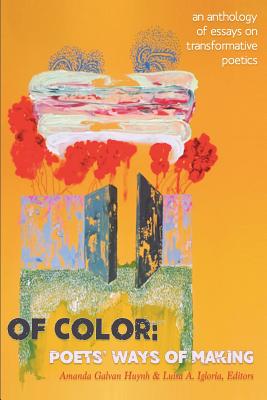 Join us at Book Culture on 112th on Wednesday, May 1st at 7pm as we welcome Melissa Coss Aquino and Amanda Galvan Huynh to celebrate the release of the new anthology, Of Color: Poets' Ways of Making: An Anthology of Essays on Transformative Poetics.
How do poets of color come to know what they do about their art and practice? How do they learn from and teach others? For poets of color, what does the relationship of "what one knows" have, with conditions extending but not limited to publishing, mentorship and pedagogy, comradeship and collegiality, friendship, love, and possibility? Is one a real poet if one does not have an MFA? For minority poets not considered part of the mainstream because of the combined effects of their ethnic, class, racial, cultural, linguistic, and other identities, what should change in order to accord them the space and respect they deserve? How best can they discuss with and pass on what they have learned to others?

These and other questions come up so consistently in our daily experience as poets of color. And we hear them from poets of color at various stages of their careers. Out of the desire not only to hear from each other but also to share what we've learned--each from our unique as well as bonded experiences of writing as poets of color in this milieu--this anthology project was born.

In this collection, we make no claims of presenting any definitive theoretical or other stance. Neither do we offer these essays as prescriptive of certain ways of thinking of craft or of doing things, although in them is expressed a collective wish--that writers of color find ways to gain strength and visibility without replicating the systems that play the game of divide and conquer and turn us against each other for narrow or self-serving profit. Instead, let there be a steady effort to compile lore and take inventory of strategies, intersections, bridges; to map our histories, to sight possibilities for the future.

We are honored and thankful to have the words of the following poets in this anthology: Mai Der Vang (Foreword), Ching-In Chen, Addie Tsai, Tony Robles, Wendy Gaudin, Ernesto L. Abeytia, Abigail Licad, Tim Seibles, Melissa Coss Aquino, Sasha Pimentel, Jose Angel Araguz, Khadijah Queen, Remica L. Bingham-Risher, Ocean Vuong, Craig Santos Perez, and Kenji Liu.
---
Melissa Coss Aquino, a Puerto Rican from the Bronx, is a writer and an Assistant Professor in the English department at CUNY, Bronx Community College where she also serves as the co-faculty advisor for Thesis, the Literary Journal of BCC. Her work has been published in Callaloo, The Fairy Tale Review, Hippocampus and Centro, The Journal for the Center for Puerto Rican Studies. Her book Citizen, Radical, Rebel and Voice: 100 years of Jesús Colón, A Puerto Rican in New York is under contract and set to be published in 2018. Her fiction is currently represented by literary agent Soumeya Bendimerand Roberts at HSG. She completed her MFA in Creative Writing at City College, and her Ph.D in English at the CUNY Graduate Center (June 2018). She is an alumna of VONA and serves on the board of directors of AROHO (A Room of Her Own).
Amanda Galvan Huynh has received scholarships and fellowships from The MacDowell Colony, the Sewanee Writers' Conference, Sundress Academy for the Arts, NY Summer Writers Institute, and Robert Rauschenberg Foundation. She is a winner of a 2016 AWP Intro Journal Project Award, and a finalist for the 2017 Poetry Society of America Chapbook Fellowship. Her work can be read in RHINO Poetry, Muzzle Magazine, Tahoma Literary Review, The Southampton Review, and elsewhere. www.amandagalvanhuynh.com
Event address:
Book Culture
New York, NY 10025
Can't make it? Reserve a signed copy by calling our store today:

$22.00

ISBN: 9781946031495
Availability: On hand at one or more locations, see product page for details
Published: Operating System - March 21st, 2019
---