112th: Mockingbird Technologies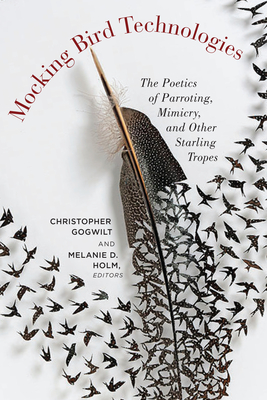 Join us on Thursday, March 1st at 7pm, as Book Culture on 112th and Fordham University Press present Mockingbird Technologies: The Poetics of Parroting, Mimicry, and Other Starling Tropes with the book's editors Christopher GoGwilt and Melanie D. Holm. They will be joined by a panel of the book's contributors, including Fraser Easton, Sarah Kay, Holt V. Meyer, and Fawzia Mustafa.
Mocking Bird Technologies brings together a range of perspectives to offer an extended meditation on bird mimicry in literature: the way birds mimic humans, the way humans mimic birds, and the way mimicry of any kind involves technologies that extend across as well as beyond languages and species. The essays examine the historical, poetic, and semiotic problem of mimesis exemplified both by the imitative behavior of parrots, starlings, and other mocking birds, and by the poetic trope of such birds in a range of literary and philological traditions.
Drawing from a cross-section of traditional periods and fields in literary studies (18th-century studies, romantic studies, early American studies, 20th-century studies, and postcolonial studies), the collection offers new models for combining comparative and global studies of literature and culture.
---
Fraser Easton (University of Waterloo, Canada). A specialist in eighteenth-century literature, he has published on Jane Austen, Daniel Defoe, Maria Edgeworth, and Christopher Smart.
Christopher GoGwilt (Fordham University). The author of The Passage of Literature: Genealogies of Modernism in Conrad, Rhys, and Pramoedya (2011), The Fiction of Geopolitics (2000), and The Invention of the West (1995).
Melanie D. Holm (Indiana University of Pennsylvania). Her scholarly focus is on eighteenth-century literature and skepticism.
Sarah Kay (New York University). A scholar of French and Medieval studies, her two most recent books are Parrots and Nightingales: Troubadour Quotations and the Development of European Poetry (2013) and Animal Skins and the Reading Self in Medieval Latin and French Bestiaries (2017).
Holt V. Meyer (Erfurt University). A specialist in Slavic studies, he is the author of Romantische Orientierung (1995) and numerous articles, and the co-editor of a new book seriesSpatio-Temporality: Practices – Concepts – Media (De Gruyter).
Fawzia Mustafa (Fordham University). The author of V. S. Naipaul (1995) and numerous articles on postcolonial literature and development.
Can't make it? Reserve a signed copy by calling our store today:

$35.00
ISBN: 9780823278497
Availability: On Our Shelves Now - Click Title to See Location Inventory.
Published: Fordham University Press - January 2nd, 2018
---