112th: Monica Cohen on Pirating Fictions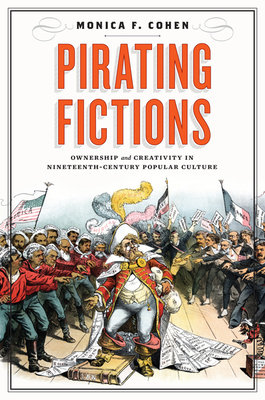 POSTPONED TO THURSDAY, MARCH 22ND AT 7PM DUE TO WINTER STORM
Join us on Wednesday, March 7th at 7pm as Monica Cohen discusses Pirating Fictions: Ownership and Creativity in Nineteenth-Century Popular Culture at Book Culture on 112th! Monica will be joined in conversation by Mary Cregan.
Two distinctly different meanings of piracy are ingeniously intertwined in Monica Cohen's lively new book, which shows how popular depictions of the pirate held sway on the page and the stage even as their creators were preoccupied with the ravages of literary appropriation. The golden age of piracy captured the nineteenth-century imagination, animating such best-selling novels as Treasure Island and inspiring theatrical hits from The Pirates of Penzance to Peter Pan. But the prevalence of unauthorized reprinting and dramatic adaptation meant that authors lost immense profits from the most lucrative markets. Infuriated, novelists and playwrights denounced such literary piracy in essays, speeches, and testimonies. Their fiction, however, tells a different story.
Using landmarks in copyright history as a backdrop, Pirating Fictions argues that popular nineteenth-century pirate fiction mischievously resists the creation of intellectual property in copyright legislation and law. Drawing on classic pirate stories by such writers as Walter Scott, James Fenimore Cooper, Robert Louis Stevenson, and J. M. Barrie, this wide-ranging account demonstrates, in raucous tales and telling asides, how literary appropriation was celebrated at the very moment when the forces of possessive individualism began to enshrine the language of personal ownership in Anglo-American views of creative work.
---
Monica Feinberg Cohen teaches at Columbia University and Barnard College, specializing in English narrative of the long nineteenth century and the nineteenth-century European novel. Her first book, Professional Domesticity in the Victorian Novel: Women, Work and Home (Cambridge UP) places Victorian domestic ideology in the context of Great Britain's emerging professional culture. Her new book, Pirating Fiction: Ownership and Creativity in Nineteenth-century Popular Culture (out this December from University of Virginia Press!!) sees the nineteenth-century popularity of pirate stories in novels, poems, juvenile magazines, plays, operas, even toy theatres as expressing ambivalence about literary piracy, the unauthorized reprinting and dramatic adaptation rampant for most of the century. Her articles and book reviews have appeared in Novel, Studies in the Novel, Victorian Literature and Culture, Dickens Studies Annual, The Dickens Quarterly, Texas Studies in Language and Literature, and Victorian Studies,. She has contributed to the Oxford Bibliographies On-line, the Oxford Research Encyclopedia of Literature, Victorian Women Novelists and the "Woman Question," The Encyclopedia of the Novel . She is a contributor to the MLA Guide to Teaching Austen's MANSFIELD PARK and the MLA Guide to Teaching Austen's PERSUASION, and author of the introductions to reprints of Oliver Twist, Emma, The Mystery of Edwin Drood, and The Old Curiosity Shop.
Mary Cregan has a PhD from Columbia and has taught in the English department at Barnard College for many years. Her book on the history of depression will be published by Norton in 2019.